AWARDS FOR IRISH CINEMA : Sundance Film Festival
Jack Reynor, Irish star of Gerard Barrett's Glassland, has won the special jury prize for acting at this year's Sundance Film Festival in Park City, Utah. [Read Irish Times]
---
NEXT RUGBY MATCH FOR IRELAND - 6 NATIONS
Extended Ireland Squad
The Ireland coaching staff has named an extended squad of 46 players for the upcoming RBS 6 Nations matches against Italy and France, as well as the Ireland Wolfhounds fixture against England Saxons. [Lire]

---
TERNARY AT THE IRISH CULTURAL CENTRE

JAZZ - 12 FEBRUARY- 19h30 : €7 - €5 for students and unemployed, reservation recommended. [Reserve]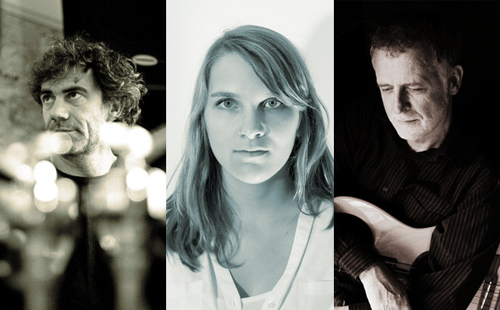 The piano trio has an honoured history in jazz, its perfect instrumental form making it ideal for both the spontaneous flexibility of jazz and its formal beauty. This evening's concert by Ternary features the brilliant young Swiss pianist Marie Krüttli, one of France's most established drummers Christophe Lavergne, and the leader - Irish composer and bassist Ronan Guilfoyle. An age-old tradition in jazz is represented tonight where an established musician brings young talented musicians into his or her own groups. As part of Ronan's CCI residency (link to current residents), he will compose new music for this new group, which will be performed in three sections. Three musicians, three countries, three new compositions - good things sometimes come in threes!

Image: Christophe Lavergne Photo ©Rod Marics, Marie Krüttli et Ronan Guilfoyle

---
[DUBLIN : 10e TRADFEST : 28 JAN - 1 FEB ]
A Festival showcasing the full spectrum of of traditional and folk music in some of Dublin City's most unique venues. From modest beginnings the festival has gone from strength to strength. Although TradFest today is Ireland's largest festival of traditional music we now also feature artists from the worlds of folk, nu-folk, and even (whisper it) rock and roll! TradFest also offers concert goers unique opportunities to experience live music in some of Dublin's most historic places : this is the difference between memorable and unforgettable.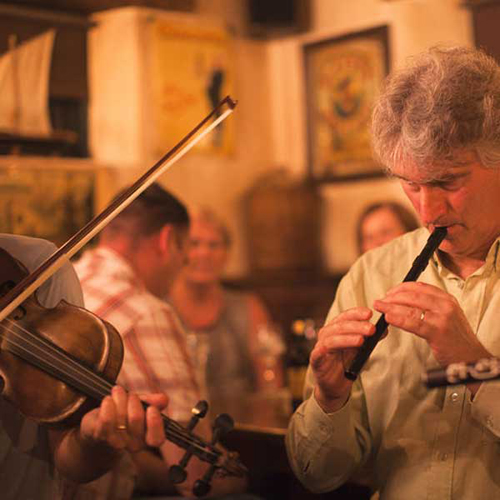 ---
[ON THE FRENCH TV - FRANCE 3
FAUT PAS REVER - IRLANDE : 31 JANVIER - 20H45 ]
---
[EXHIBITIONS / VISUAL ARTS
au CENTRE CULTUREL IRLANDAIS à PARIS ]
Tuesday 6 January – 20 February 15
Opening night, 22 January 15, 6.30pm – 8.30pm Open Studio Tuesday to Friday from 2pm to 5pm and by appointment Admission free (including opening night)
Meta-perception Club Cleary Connolly
Meta-perception Helmets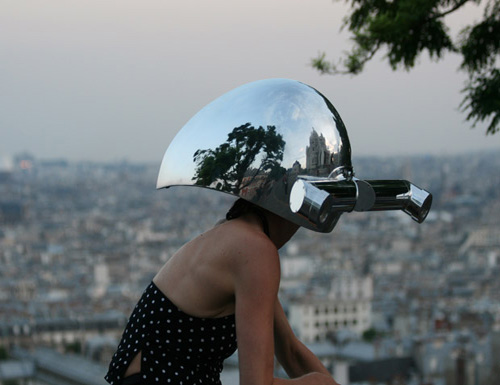 Artists Cleary Connolly have spent several years developing an extraordinary series of interactive helmets that explore the mysteries of visual perception. Five helmets are on show at the Centre Culturel Irlandais during the months of January and February offering us humans the chance to experience the hyper-stereo vision of the hammerhead shark, the wide peripheral vision of the horse or the backward/forward vision of the chameleon! We are also taken into the unnatural world of mythology and literature with the Cheshire Cat and Cyclops helmets. Be among the first in Paris to don these sculptural helmets which are being presented as part of the artists' residency at CCI. [Read more]
---
[DUBLIN - PARIS : A symbiotic Relationship ! Minister Jimmy Deenihan meets the Irish community]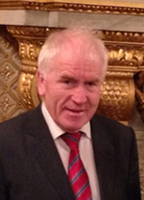 At a time when Ireland was dealing with an economic crisis with determination, the Minister of Culture, ( Department of Arts, Heritage and the Gaeltact) Jimmy Deenahan was named Minister of State for the Diaspora in a cabinet reshuffle in July 2014. A ministry created for the first time in Ireland, which aims to utilise the formidable assets of this population that exercises it's influence throughout the world. (Read in French)
---
[PAC-MAN, MARIO, SONIC THE HEDGEHOG and SPACE INVADERS : An Post stamps]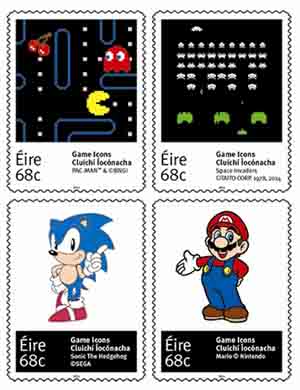 Designed by award-winning Irish graphic design studio Zinc Design, the stamps feature retro game icons including Mario© (2014) Nintendo Co. Ltd., Sonic the Hedgehog©Sega, Pac Man©BNGI and Space Invaders©Taito Corp.1978, 2014.
During two years, An Post was developing the collection and has released a total of 256,000 gaming stamps.

Choose your game !!