[EXHIBITION AT CENTRE CULTUREL IRLANDAIS ]
DAVID CRONE : ON HOME GROUND

Du 25/04 - 5/06
Tuesday to Saturday from 2pm to 6pm (late opening on Wednesdays until 8 pm) Sundays from 12.30 to 14.30
Closed on Mondays , public holidays and 24, 28, 29, 30 April, 20 and 27 May

!!!! 23 APRIL at 7pm on the night of the exhibition opening, Seamus Harahan, artist-in-residence and accordionist, will hold a 'seisiún' outside his studio with invited guests Trees Prosper - Patrick Morgan on guitar, Christina Anna Morgan on vocals and Sara Barry on flute and mandolin.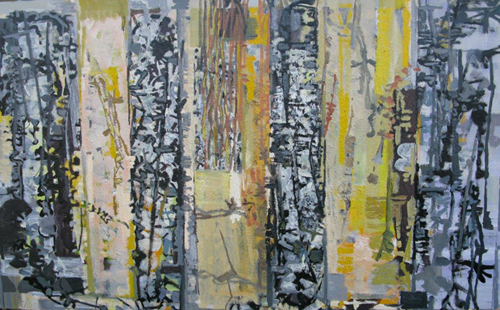 David Crone David Crone is among the most highly regarded and influential painters working in Northern Ireland. Landscape has long been his primary subject matter; having spent decades painting fractured images of Belfast city, his mastery as a colourist came to the fore when he moved to a rural setting in the mid-1990s. Characterised by his incisive curiosity, Crone's paintings are animated by visual tensions, rhythms and encounters that challenge the viewer. Poet Michael Longley writes that "His watchful, edgy, ambiguous work suggests that everything - from wild flower to boulder, from graffito to stone cross - is provisional. David Crone's wonderful paintings commemorate the interim."

---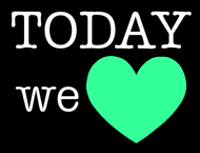 [TODAY, WE LOVE]
Every day an exhibition, a film, a song, and happy news…
Sunday 5 April 2015
EASTER RISING -EASTER RISING AT THE MUSEUM -
The social, economic and cultural background to the Rising is explored, concentrating on the political dimension and the personalities involved. The exhibition describes the main events of Easter Week, outlining the locations of the garrisons and incorporating biographical details of the leaders.[more]
A military ceremony to commemorate the Easter Rising of 1916, led by the President and the Taoiseach at the GPO in Dublin.[more][more audio Dublin]
---
[IRISH STAMPS : ANIMATION ]
On the 20th of March 2015, An Post issued four stamps to celebrate the success of Animation Ireland. The stamps incorporate augmented reality technology, a first for An Post. To maximise your enjoyment of these stamps, simply download the "Cee Explorer App" and scan with your smartphone. You can then learn more about the studios which created award-winning productions, and view additional content.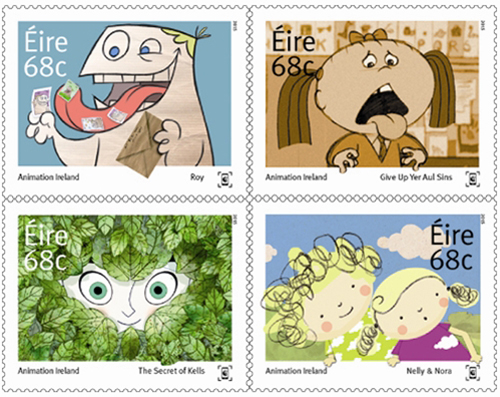 The four new stamps were designed by Vermillion Design and feature : Roy, Give Up Yer Aul Sins, The Secret of Kells and Nelly & Nora.

---
2015 in IRELAND : Year of the Design [lire]
Irish Design 2015 is the start of a job creation journey exploring, promoting and celebrating Irish design and designers through events and activities on the island of Ireland and internationally. [Read Irish Times]

---
AWARDS FOR IRISH CINEMA : Sundance Film Festival
Jack Reynor, Irish star of Gerard Barrett's Glassland, has won the special jury prize for acting at this year's Sundance Film Festival in Park City, Utah. [Read Irish Times]