[ IRISH PRESIDENT MEETS THE QUEEN ]
The Irish and English Media reports about the first State Visit to the UK by a President of Ireland.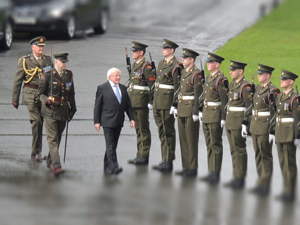 A Guard of Honour will be provided at Áras na Uachtaráin by the 12th Infantry Battalion under the command of Captain Ian O'Brien. Captain Fergal Carroll will conduct the Army No. 1 Band who will play the Presidential Salute.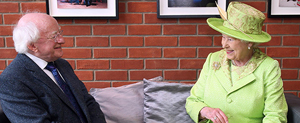 HRH The Queen meets with Irish President Michael D Higgins at the Lyric theatre in Belfast - 27th June, 2012..
This will be the first State Visit to the UK by a President of Ireland and follows The Queen's historic State Visit to Ireland in May 2011 [Irish State Visit programme]
Michael D Higgins flies to London ahead of historic state visit By Shane Harrison
BBC NI Dublin correspondent
Cultural ties define Irish president's first visit to Britain By Vincent Boland Politics & Policy
The President and Mrs Higgins will stay in Windsor Castle
Irish President to Make 1st State Visit to Britain By Shawn Pogatchnik,Associated Press.

Sinn Féin politician to be special guest at events during historical four-day visit of Irish president to UK this week.
[read ] © Photos Áras an Uachtaràin

---
---
THE IRISH CLUB
Become a Member of The Irish Club,
be an actor of the Franco-Irish links .