[WIN TICKET FOR TWO : JIMMY'S HALL]
To win a ticket for two, valid every day, in all cinemas to see Jimmy's Hall, answer the following 3 questions and send your answers by e-mail before July 15th
1 - Who is the director of Jimmy's Hall ?
2 - In which County was Jimmy's Hall ?
3 - Which actor plays the role of Jimmy Gralton?
---
[VAN MORRISON AT MONTREUX : 15th JULY]

There is no lack of oppurtunities for things to do at Montreux Riviera. Besides the important music events like the famous Montreux Jazz Festival or the renowned Septembre Musical, entertainment is available at all times.
Van Morrison will be at Montreux 15th of July.
After the music, devised by the hoteliers, the winegrowers and Montreux-Vevey Tourisme, "Savoring Lavaux!" is an exclusive offer for lovers of wines from Lavaux, a UNESCO World Heritage site. The Lavaux Vineyard Terraces, stretching for about 30 km along the south-facing northern shores of Lake Geneva from the Chateau de Chillon to the eastern outskirts of Lausanne in the Vaud region, cover the lower slopes of the mountainside between the villages and the lake.
---
[2014 : IRELAND IN LORIENT ]
Mr Michael Higgins president of Ireland will attend the first week of the Lorient Interceltique Festival this year.
The announcement was made on Saturday by the festival director Lisardo Lombardia
after a meeting with president Higgins at the Irish Embassy in Paris. The president will
be present on Saturday for the opening of the Year of Ireland for the Glanmore Concert
featuring the famous uileann pipes player Liam O' Flynn, which is in honour of Irish poets.
Mr Higgins knows Lorient well and has been on two official visits to the city as mayor of Galway in 1981, and as minister of culture in 1996, the year of the Imaginaire irlandais.
This year the Interceltique Festival with Ireland as theme promises to be worth a visit.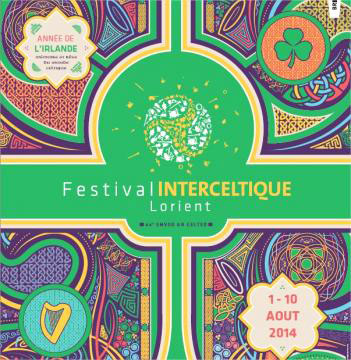 ---
[ JIMMY'S HALL by KEN LOACH NOMINATED PALME D'OR]
Political activist Jimmy Gralton is deported from Ireland during the country's 'Red Scare' of the 1930s.
---
THE IRISH CLUB
Become a Member of The Irish Club,
be an actor of the Franco-Irish Life .