Blondes sparkle, brunettes smolder, but redheads explode. Whether auburn, copper-hued, ginger or strawberry blond, guys and gals with carrot tresses are caught in the tangle of being Different - especially as a child, when red hair is an affliction. "You hate it when you're young but love it as you get older", explained Jenny McIntosh, a Scottish woman whose kid combo of carrot-colored hair and freckles has softened into dark auburn hair and creamy white skin. An English acquaintance, Lynn Kirk, whose locks are a lighter auburn, agreed. "It was only when I did hair-modelling as a teenager that I started feeling better about my hair.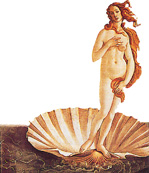 " According to a recent publication, "Roux et rousses, un éclat très particulier" by Xavier Fauché, even such celebrity redheads as Sonia Rykiel and Woody Allen complain of decidedly not rose-tinted childhoods. Still, both Rita Hayworth and Nicole Kidman have achieved sex-symbol-hood, and a mixed bag of "roux" notables include Mark Twain, Richard the Lionheart, Queen Elizabeth, William the Conqueror, Henry IV and Robespierre - with differing degrees of the generic hot temper and passion.

Red has always been in the hot seat. Literally, in the case of salsa, cinnamon and chile, and symbolically in its connection with magic, the flames of hell and the devil's own tint. Thieves may blush guiltily or see red when caught red-handed and revelers like to paint the town red. A red herring conceals the truth, Marxists and anarchists claim the color as revolutionary, and "redneck" is the pejorative term for a southern American bigot. Red-light districts and the color of the Scarlet Letter are hand-me-downs from a 13th-century edict that tolerated prostitutes but required them to dye their hair red, to distinguish themselves from "honest" women (cf Julia Roberts in Pretty Woman). Artists picked up the symbolism. Paintings of Judas Iscariot often depict him with what was considered villainous red hair, although nowhere in Biblical records is the color of his curls mentioned. Victor Hugo topped off Quasimodo's defects with Òbristling red hairÓ. During the Inquisition, flame- colored hair was considered evidence that its wearer had ventured too close to hell's fire and was therefore burned as a witch; and melanin spots on the skin were cursed as proof of sexual relations with the devil. The supersti-tion also applied to men unlucky enough to sprout a red beard. On the other hand, Botticelli's "Birth of Venus" features - yes - flowing red hair, and Apollinaire even wrote a poem called La jolie rousse (The Beautiful Redhead).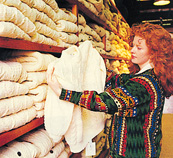 In fact, redheads who flaunt their color are undeniably glamorous - but potential red-haired babies may be "saved" by genetic quirks. Jenny McIntosh has no trace of redheads in her immediate family, whereas Lynn Kirk's color has skipped a generation - neither of her parents have the red hair gene, but both of her grandmothers do. According to the Red Prince, webmaster for a redheads-only Internet site (www.redprince.net), a brunette may actually have a set of genes for red hair, but these are often overshadowed by brown-hair genes - which is why many chestnut tresses flash with glints of copper. And despite appearances, getting freckles and red hair together is just the luck of the draw, as the gene sets for hair and skin are unrelated. Wannabe wild women can get the color from a bottle, but most redheads and hairdressers can tell a natural from a fake. According to one coiffeur, the current vogue is for under-30s to get red highlights and over-30s to dye short cuts to copper. An acquaintance with dark red luxurious locks said, "Being a redhead is a lot neater during the periods when it's not trendy and everyone else isn't wearing Raggedy Ann orange locks." She added, "Those who are on intimate terms with redheads know who's real and who's not..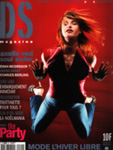 " With natural redheads accounting for only one to two percent of the European population, hair color doesn't exactly make for a strong lobbying force to demand tolerance for their tint. But about 10 years ago Killian (red) Beer created a social club for redheads and used "red power" as a marketing campaign. The ads featured a gorgeous titian-haired model and the words: "Je suis rousse - et alors?" According to Kirk, who attended one of the Killian do's, most of the participants dyed their hair; in any case, she said, "It all looked very weird, like a group of mutants gathered together.
" In that vein, pop redheads like Iggy Stardust and Ginger Spice are taking the sting out of being strange, and whether weird or wild, elegant or exotic, they're saying it loud: we're red and we're proud!