Music ... © www.irisheyes.fr

Julie Feeney,

The Washington Post called me 'The Emerald Isle's Original' –because although I'm from Galway, I don't play traditional music which makes me different – I suppose!"
Julie Feeney by Mick Walsh
Julie Feeney is distinctly original, crafting and performing her innovative form of music, christened 'chamber pop'. Her background is classical – she performed with the National Chamber Choir for 5 years – and her performances comprise artful theatre. She expertly combines her many roles as producer, composer, orchestrator, singer, conductor, performer and instrumentalist. "I didn't set out with a plan to be all those things, I just had an idea which I wanted to realise, so if that meant producing and orchestrating to express that idea then that is what it is."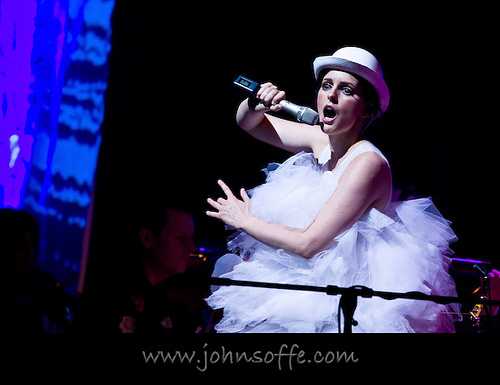 On 16-December, Julie will transport her thrilling show of strings, wood-wind and subtle brass to the Centre Culturel Irlandais in Paris.
"It will be amazing to play at the CCI, because when I last stayed there in 2008, I had just completed the master of my new 'Pages' album; but I was struggling to find the album title. I was in Paris performing the theatrical piece 'Slat'. This time I'll be bringing my Pages Orchestra of double bass, cello, viola, trumpet, piano, xylophone, accordion and two singers".

In 2005 Feeney's debut album '13 Songs' earned her popular and critical acclaim and won the Choice Music Prize. Her songs full of sharp observation, wry humour and thrilling word jousts. "I re-frame my own experiences and feelings into words and images to which other people can relate. I think it's about looking at what you have to express and deciding if it's relevant to anybody else and if anybody really needs to hear it!"

Julie's song-writing and composition, is a process of distillation; first penning her idea as an essay before distilling it down to a poem and then to the song lyrics. For her 2nd album 'Pages' (2009) Julie took herself off for 5-weeks to Annaghmakerrig, Co. Monaghan to find peace and isolation. "It's really important that I block off time for writing and composition. It's essential to write down your ideas and then to reflect on them – that is the really important part. It's a process of confronting yourself and it's only when you test your ideas that you get to the bottom of what they really mean."
Julie's shows owe much to theatre and attract a wider creative audience; an integral part of her stage performance being costume and fantastical head-gear. "For the Paris show, I will be bringing the 'House' head piece which represents my artwork. During my shows I'll often do several costume changes." Julie's on-stage costumes include the hand-stitched 'Pages' dress which she sculpted from the actual pages of the album's orchestral score.
Currently Julie is working on her 3rd album as well as writing an Irish Opera. "I'll use a different technique for the Opera, getting the words first and then the music. For 'Pages' there was some existing music and I also had all these ideas so I went away and worked with them and wrote 12 poems. And at Annaghmakerrig, the melody came almost naturally. Writing album songs and the Opera simultaneously is new for me and I've two different essences floating around in my head'"
Julie has fond and fraught memories of her last stay in Paris which included struggling to come up with the titles of her 2nd album, "It was tortuous trying to choose a name for the album. I'd recorded the songs with an orchestra and it was the pop album that I wanted to make because there are no synthesized sounds on it and then I found myself struggling to name it. It was quite a dilemma because you need a name which is going to sum up what the album is about; it would be terrible if you didn't like your own title – because you'd have to live it with forever. And it's brilliant to be coming back to the Centre Culturel with that album."
In 2009 the release of 'Pages' brought Julie into the national media spotlight, "even though '13 Songs' won the Choice Prize, the new release seemed to cross over to a much broader audience. I was blown away when I sold out the National Concert Hall, Dublin, it was amazing and the 1,200 audience were just so incredibly receptive."

And what of any French musical leanings. "From a young age all I wanted to be was a film composer and I particularly loved the music of Erik Satie. I also like the performance side of one of my French contemporaries, the singer Camille."
For Julie, performing live is a thrilling experience and a "completely different animal. I revel in live performance but I'm absolutely petrified before each show and I get ridiculously nervous. I always ask myself – why do you put yourself through this. And then when you go on stage - its like jumping into the cold sea – it's just so exhilarating!"
Truly an 'Emerald Isle Original', Feeney's performances are delivered with stirring, spellbinding elegance. Her exceptional voice often haunting, sometimes lilting but always engaging.
Julie Feeney's official website : www.juliefeeney.com
© Copyright Irish Eyes - Photos: © The Irish Club