Getting Wilde in Edinburgh (and Elsewhere)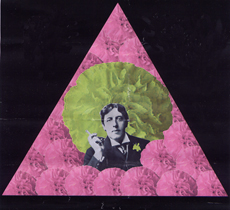 Dear Conjunction", one of Paris' pre-eminent English-speaking theatre companies, was set up by Barbara Bray, Patricia Kessler and Les Clack in 1991 with a view to presenting Anglophone plays in bilingual versions. The company realized that its main pull was through what Les Clack calls an "English-understanding audience" and so has, in recent years, tended to concentrate more on its English-language output. 2008 has been a very successful year so far for "Dear Conjunction" with several crowd-pulling runs at the "Sudden Theatre" in the 18th arrondissement but certainly the jewel in the crown will be their forthcoming visit to the Edinburgh festival with their latest production "More Lives than One: Oscar Wilde and the Black Douglas". The Irish Eyes spoke to Les Clack about Edinburgh, Wilde, love, life and the theatre and he opened his heart to us:
The Irish Eyes : This is not the first time "Dear Conjunction" has taken a show on the road, is it?
Les Clack: No, indeed. We've done various shows in England. We've done a lovely tour of Northern Ireland and the north of the Republic of Ireland. We've been to Sweden, we've been to Poland and various distant places in France. So yes, we tour as much as we can.
T.I.E.: Do you find a big difference between taking a show on the road and doing it in a permanent theatre?
L.C. : Yes, it's almost like playing a game of cricket away. It can sometimes be much more interesting. We've found that the theatres abroad are usually very welcoming and in Ireland particularly we found that the technical side is so very efficient.

T.I.E.: Tell us how the trip to the Edinburgh festival actually came about?
L.C. When we did the show here in Paris, Jim Haynes, one of the founder members of the "Traverse Theatre" in Edinburgh and now a kind of cultural icon here in Paris, came to see it, was very pleased with the show, came back several times and said "you must take this to Edinburgh". His enthusiasm lit the fuse and so we didn't let the idea drop.
T.I.E.: Tell us more about the show and dates?
L.C. : The show is called "More Lives than One: Oscar Wilde and the Black Douglas". It'll be playing at "The Augustins Sanctuary" venue at 41 George IV Bridge, Edinburgh, with a preview on August 2 and the show runs from August 4-10 and from August 12-17. All shows at 7.25 pm. It's bang in the centre of Edinburgh just around the corner from the Fringe office.

T.I.E.: How would you describe the show?
L.C. : One of our original titles sums it up: "The Life and Work of Oscar Wilde". It was inspired by and based on Michael MacLiammoir's "The Importance of Being Oscar". We've shortened that to an hour and five minutes but we've added scenes from the trial of Oscar Wilde and many other facts and quotes that I've come across while researching the play.

T.I.E.: How big of a challenge was playing the role of Oscar Wilde?
L.C. : I don't actually like to think that I'm playing the role of Oscar Wilde...I'm sort of telling the story. But as I also play the part of the narrator, Lady Bracknell, Edward Carson and others, I don't like to think that I play the role exclusively of Oscar Wilde.
T.I.E.: What happens for "Dear Conjunction" after Edinburgh?
L.C. : We'll be doing "84 Charing Cross Road" (Ed: an excellent production) in the "Théâtre Alexandre Dumas" at Saint Germain-en-Laye in November. They've bought that show for quite a decent sum of money. And they've bought the Oscar Wilde for March. So we know already that we'll get back some of the money we're investing in Edinburgh which seems to be a bottomless pit. We're also supposed to be creating a new show about Shakespeare's more bawdy and rumbustious characters, for an open-air theatre in Chantilly in late September. And in 2009 we're hoping to take Oscar Wilde to the Perth theatre festival in Australia. Well "Dear Conjunction" has been producing Wilde in Paris, will be doing so in Edinburgh this summer and hopes to continue in similar fashion in Australia next year. Sounds like an interesting programme. Catch up with them somewhere on their world tour and get Wilde with them.
Dear Conjunction Theatre Company presents
"More Lives than one, Oscar Wilde and the Black Douglas".
with Les Clark, At Augustine's Sanctuary ,41 George IV Bridge - Edinburg.
Preview 2 August, runs August 4-10, 10-17 at 19:25.
© Copyright Irish Eyes