Irish Theatre Declan Mc Cavana - www.irisheyes.fr



Irish Theatre on Film

by Declan Mc Cavana
Irish Theatre on Film The notion of "theatre on film" may seem quite oxymoronic if not purely moronic to most lovers of the dramatic art but nonetheless the early twentieth century's greatest mass medium (the cinema) whilst it may have, on the one hand, led to a decrease in the numbers of people frequenting theatres, on the other hand, also introduced a new audience to the joys of the stage. This was certainly generally true for authors ranging from Shakespeare to Tennessee Williams and was more specifically the case for Irish plays and for Irish authors.
George Bernard Shaw was one of the first playwrights to wholeheartedly embrace the new medium, for as early as 1914, he himself acted in a film of J.M. Barrie's called,"Rosy Rapture – The Pride of the Beauty". Although Shaw was not very keen on the first film version of 'Pygmalion' m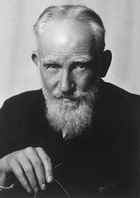 ade in 1935 by the German director Erich Engel, he was so taken by the scope offered by the cinema that he gave the rights to make movies of his plays to the Hungarian producer and director Gabriel Pascal. "Mr Pascal, you're the first honest film producer I have ever met", Shaw famously said to Pascal at their original meeting and handed him a pound note according to the legend. Whatever, Pascal made a new version of "Pygmalion" in 1938. The film was a huge international success and led to several other movies based on Shaw plays: "Major Barbara" (1941) and "Caesar and Cleopatra" (1945) which, despite being the most expensive British movie ever shot, at the time of its release, ended up as a terrible flop. But, of course, it was the musical version of "Pygmalion" shot in 1964 which was to witness the Irish dramatist's most lasting effect on the sixth art. "My Fair Lady" directed by George Cukor and starring Audrey Hepburn and Rex Harrison won the 1964 best picture Oscar and was the most successful screen adaptation of an Irish play ever filmed. Fourteen years after his death Shaw reached an audience he had never known in his lifetime. This is, of course not surprising given that he had banned musical versions of his works following an 1894 adaptation of "Arms and the Man" which he detested.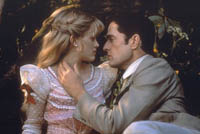 Another Irish dramatist whose plays have continued to obsess filmmakers is, of course, Oscar Wilde. Wilde's work has inspired many wonderful screen versions ranging from Ernst Lubitsch's 1925 rendition of "Lady Windemere's Fan" to the 2004 Mike Barker adaptation, 'A Good Woman' starring Helen Hunt, Scarlet Johansson and Tom Wilkinson. Other notable Wildean cinematographic moments are the Anthony Asquith (1952), Kurt Barker (1992) and Oliver Parker (2002) versions of "The Importance of Being Earnest". Indeed Wilde's work continues to attract moviemakers, for it appears that Al Pacino is currently working on a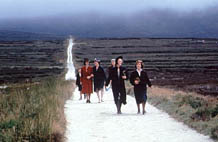 version of "Salomé" to be filmed in a similar style to his 1996 "Looking for Richard". However Wilde has quite an unusual place in film/theatre history in that not only have his plays been the subject of many adaptations but his own life has also fascinated scriptwriters and directors. "The Trials of Oscar Wilde" (1960) and two movies entitled 'Oscar Wilde' (1959 and 1997) prove the continuing appeal of the genius of Ireland's greatest conversationalist, wit and playwright rolled into one.
Nonetheless Shaw and Wilde do not have a monopoly of Irish drama on film. Indeed several contemporary dramatists have seen their work transformed into successful screenplays. These include John B. Keane whose work inspired the 1993 movie "The Field" and Brian Friel whose "Dancing at Lughnasa" was adapted for the screen by Irish director Pat O'Connor. Howeve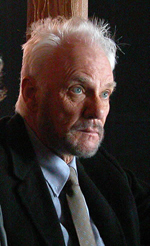 r no look at cinematographic versions of Irish plays would be complete without a mention of Samuel Beckett. Aside from the magnificent version of the entire theatrical works of Beckett produced by Michael Colgan and Alan Moloney in 2001 and called "Beckett on Film", the author himself wrote a screenplay for the 1965 silent movie, entitled "Film" directed by Alan Schneider and starring Buster Keaton.
As long as the cinema manages to flourish, there will be a niche for the adaptation of drama to the screen and the continuing vigour of this genre can be witnessed by the March 2008 release of a movie based on the 1995 play written by award-winning Irish novelist and dramatist, Joseph O'Connor. The film version of "Red Roses and Petrol" starring Malcolm McDowell and Olivia Tracey promises to keep alive the tradition of great movies based on Irish theatre.
MORE :
- Mont-Blanc : George Bernard Shaw par Pen and Co et The Irish Eyes
- BBC : Bernard Shaw
- The Free Library : Shaw
- Nobel Prize : Shaw
- The Shaw Corner : Corner
- Welcome to the official web site of Oscar Wilde : Oscar Wilde
- Red Roses and Petrol : Malcolm McDowell
- Dancing at Lughnasa : Film Sony
- IRISH THEATRE
- Armagh Theatre and Arts Centre
- Backstage Theatre and Arts Centre
- Bank of Ireland Theatre , NUIG
- Belltable Arts Centre, Limerick
- Dunamaise Arts Centre, Laois
- Model Arts and Niland Gallery, Silgo
- Old Museum Arts Centre, Belfast
- Riverbank Arts Centre, Kildare
- St Michaels Theatre Centre for the Arts, Wexford
- The Ark
- The Linenhall Arts Centre, Castlebar
- The Sirius Arts Centre, Cork
- The Source Arts Centre, Thurles
- Tinteán Theatre, Ballybunion
- Watergate Theatre, Kilkenny
© Copyright Irish Eyes


Vous pouvez nous contacter en envoyant un mail à l'adresse suivante : contact
© Copyright Irish Eyes - Photos: © The Irish Club