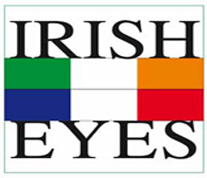 - MICHEL ABECASSIS - ADRESSES IRLANDAISES - AGENDA CULTUREL - AMBASSADES - ANJOU - ARTS ON SEINE - ANNONCES - ARAN (LES Îles d') - ARCHITECTURAL HERITAGE - ARDECHE - ARNICA - ARTHUR - FRANCIS BACON - SEBASTIAN BARRY- KATHLEEN FITZPATRICK BERNARD - BARBARA BRAY - BECKETT - BATTLE OF THE BOYNE - BESTIE - PAULINE BEWICK - BLOOMSDAY - BOIRE SANS DEBOIRE -BOURGOGNE - FRANCOIS BOUCHER - CADEAUX IRLANDAIS - CAHORS - CELTIC TIGER TAIL - CENTRE CULTUREL IRLANDAIS - PIERRE CHABERT - COIN DES ENFANTS - COURANT D'EIRE, la NEWSLETTER - LE CHEVAL - CONNEMARA - CONTACTEZ-NOUS - CORK - COUP DE CŒUR - CRAN - CHILDREN CORNER - CUISINE - DELICES DE PALAIS - LE DEPEUPLEUR - DERRY- DEUX JOURS à TUER - DONEGAL - BARRY DOUGLAS - FRANCE EN IRLANDE - RODDY DOYLE - DRACULA -THE DUBLINERS - DUBLIN GEORGIEN - MICHEL DIDYM - DONEGAL - ENFANTS - ECOLOGIE -ENVIRONNEMENT - EUROPE - EUROPE, YES LISBONNE - OLWEEN FOUERE - GERARD BESSON - GOLF - GLOBAL VILLAGE - GONCOURT - GREAT WAR 1914-18 - GREEN BOX - HALLOWEEN - HOTEL DD - HUITRES D'IRLANDE - ILES D'IRLANDE - ÎLES - IRISH CLUB - IRISH DIASPORA - IRISH DIRECTORY - IRISH JACOBITE - IRISH THEATRE ON FILM - IRLANDE EN BREF (in English) - IRLANDE EN FRANCE - JAMES JOYCE - KEN LOACH - LOT - FERGUS MARTIN - COLUM McCANN - FRANK MC GUINNESS - FRANK McCOURT - MADERE - MALBEC - THE MIDNIGHT COURT - MICHAEL COLLINS - MUSEE DES VAMPIRES - NANCY - NAPOLEON - NAPOLEON III - OSTENSIONS LIMOUSINES - NUALA O'FAOLAIN (1) - HOMMAGE à NUALA - SEAN O'CASEY- PARIS GAELS FOOTBALL CLUB PARIS - PORNIC - RECETTES IRLANDAISES - THE IRISH CLUB - THE CLUB - THE IRISH EYES MAGAZINE - BARACK OBAMA -THE O'NEILL WILD GEESE - PORTO - RED HAIR - WILLIAM ROBINSON - ROI RENÉ - SAINTS - SAINT PATRICK - SAMUEL BECKETT - SHAMROCK - PARIS WITH IRISH EYES - PAULA SPENCER - POULARDE - SALLAM - SAUMUR - SHALOM - SPORT - GEORGE BERNARD SHAW - SOPHIE LOROTTE - SOLDIERS & CHIEFS - THALASSO-PORNIC - SOPHIE TOSCAN DU PLANTIER - BRAM STOKER - TOURAINE DU SUD (In english) (En Français) - VAN MORRISON- VAMPIRE - VERT - VICHY - VIENNE - VIN -VOSGES - WELEDA - WEST OCEAN STRING QUARTET -WEXFORD - WILDE - YES, WE CAN -
THE IRISH EYES - Nunero 98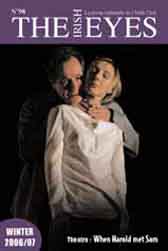 BOORMAN'S TIGER : CELTIC TIGER'S TAIL
by Allen Harbinson
Though John Boorman was born in London in 1933, he has lived for the past three decades in County Wicklow. He is deeply involved on many levels with the Irish film industry and has, amongst his other cinematic achievements, directed one of the truly great Irish movies, The General (1998), so he is widely viewed as one of Ireland's artistic treasures. The star of The General was Brendan Gleeson, one of Ireland's most talented and popular actors, a man whose work has ranged from small-budget Irish movies, including the perennially popular The Field (1990) to Hollywood blockbusters such as Spielbeg's Artificial Intelligence: A1 (2001), Scorsese's Gangs of New York (2002) and, more recently, Harry Potter and the Goblet of Fire (2006), in which he played, with enormous skill and enthusiasm, Mad-Eye Moody. Now Boorman and Gleeson have come together again, the former as producer, writer and director, the latter as lead actor, for a new movie, The Tiger's Tail. The result is an unmitigated disaster.
Of course, disaster is nothing new to Boorman. Though widely recognised as a major force in movies, his career has been wildly unpredictable, both artistically and commercially, with every triumph, such as Point Blank (1967) and Hope and Glory (1987) being seen as compensation for such duds as Zardoz (1974) and Exorcist II: The Heretic (1977). Like the last two named, Boorman's latest, The Tiger's Tail, is of an awfulness that beggars description.
What went wrong? Well, the story, for a start. The Tiger's Tail is an attempt to make a movie strongly critical of how the Celtic Tiger economy is destroying the supposed moral values of old Ireland, but Boorman's handling of the theme (which may not have validity anyway) is severely hampered by a ridiculous story and risible screenplay, with cliché piled upon cliché and enough holes in the plot to make a Swiss cheese.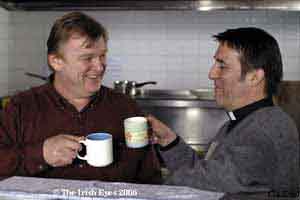 Gleeson plays a self-made business tycoon who lives in a grand mansion in Dublin, is proud to be an unrepentant capitalist in the new, heartless Ireland, is married to a luscious English woman (Kim Cattrall), and has an adolescent son who, in revolt against his father's vile values, has become a passionate University-student communist. Gleeson also has an attractive mistress (Angeline Ball) on the side, rarely bothers with his own family, and is ruthlessly forging his way ahead when… wait for it… he is hounded by a seemingly homicidal double, either his "doppelganger" or a twin that he never knew he had. This doppelganger, or twin, gradually takes over Gleeson's life, including his business, his home and his wife, eventually leaving him to sink or swim as one of the growing number of homeless in Ireland's steadily widening divide between the "haves" and the "have-nots".
The movie opens with great promise when Boorman takes us on a tour of an almost bacchanal "new age" Dublin, mainly Temple Bar, replete with grid-locked traffic, drunken crowds, mindless violence, drug-taking and vomiting (an hysterical view of the new Ireland, no doubt, but brilliantly orchestrated and shot); but it rapidly be-comes lost in the idiocies of its ludicrous plot and wooden dialogue, with Gleeson appear-ing to be increasingly confused about what he's supposed to be doing, what kind of character he's supposed to be playing. Indeed, this may well be Gleeson's worst performance, though he's not to be blamed for it, since some scenes are so badly written and directed that we can't be sure if they're supposed to be serious or comic, while other scenes simply don't make sense. In one such scene, Gleeson falls into the mud, rises looking like a black-faced Minstrel performer, returns to his house without bothering to wipe the mud off, and is, as a consequence, mistaken by his own wife for an intruder and dragged away by the police, leaving his doppelganger to enjoy his wife's bed. In other scenes, we are asked to believe that while Gleeson, the famous, media-hot property-dealer, is in court being charged with a variety of financial offences, his twin is openly running his business empire in his name and being completely ignored by the judiciary, the police and the media. Equally unbelievable is the eventually revealed origin of Gleeson's doppelganger, and his relationship with Gleeson's unhappily married sister, played unhappily by the normally talented Sinéad Cusack. The movie ends, with little rhyme or reason, with a reconciliation between Gleeson and his estranged, former drug-taking son, both of them seen sailing along the Liffey River, in romantic light, between the soaring waterfront high-rises of the Celtic Tiger's "nouveau riche". The heavy-handed soundtrack music soars just like the high-rises.
John Boorman is now in his early seventies. It will be a pity if this lamentable movie turns out to be his swan song. If you would like to be remind-ed of just how brilliant he has been in the past, one of his indisputable masterpieces, Point Blank, is being re-released in Paris in December. No French release date has yet been set for The Tiger's Tail. It has sneaked in and out of Ireland with barely a whisper.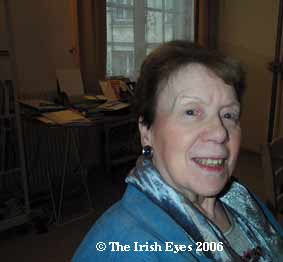 It Barbara Bray is an extraordinary character: lecturer, translator, radio producer, script-writer, director, who during her life so far has worked with the likes of Marguerite Duras, Michel Tournier and Joseph Losey.
When Barbara told The Irish Eyes in a recent interview that "Harold was a great devotee of Sam's work even from adolescence and by that time (1961) I knew Sam very well and I knew Harold would want to meet him. So of course I introduced them", there are no prizes for guessing the surnames of either of the literary giants referred to. Barbara Bray, apart from introducing Harold Pinter to Samuel Beckett, was also the BBC radio script editor who found and commissioned both men when they began their careers in radio drama, Beckett with All That Fall in January 1957 and Pinter with A Slight Ache in 1959. Barbara Bray recalls: "the (BBC) Third Programme asked Sam to write them a radio play and though he never worked to commissions he said he would if he could. All That Fall aroused such interest among the general public and among writers that we thought it would be a good idea to introduce the public to Beckett's prose works. While we waited for him to write Embers we selected things from his works and there happened to be an invasion of Irish actors in the London theatre then. So we got people like Pat Magee and Jack McGowran to read bits from the so-called trilogy." What then was the original reaction of the general public to the works of these two men both destined to become Nobel Prize winners? Barbara Bray explains: "Pinter's first radio plays were met with remarks concerning the ravings of a lunatic, and similar things were said concerning Samuel Beckett readings, but after the second or third readings people began to get intrigued and began to get an ear for it as you do with music. New music is at first strange to you, then you listen to it a few times and you begin to get the hang of it. We did all Harold's radio plays on the Third Programme. Harold would write many of his plays first for radio, then they would become television plays and then stage plays. The tide was turning when authors realized that if they were going to distinguish themselves, it was going to be as much with their words as with their action." Barbara Bray was one of the first producers to realize that such a change was taking place as, in the wake of John Osborne's Look Back In Anger (1956), the nature of the relationship between author and public was dramatically being transformed. She remembers: "the focus of drama switched back to the classical Shakespeare period when the word was more important than the action or at least as important as the action and where the stress was largely on the function of words in drama."
Realizing that such a watershed was occurring, Barbara Bray set out to enlist those writers she felt best represented the new trend. Samuel Beckett, whom she had first met in 1953-54 at the Royal Court production of Endgame, was pre-eminent among them. "He was a very charismatic person in every way. I know it's not possible to qualify 'unique' but if it were possible, he would be called extremely unique".
Although Barbara Bray continued to work closely with Harold Pinter (with whom she co-wrote a screenplay based on the works of Marcel Proust) and Samuel Beckett (she is currently working on a commissioned memoir of the great Irish dramatist), her own career took her mainly in the direction of translation where it includes many of the greats of 20th century French literature including Sartre, Robbe-Grillet and Genet.
Nonetheless she maintain-ed her interest in theatre and acting through several original film scripts and dramatic adaptations of Swift, Flaubert and Pagnol amongst others. But Barbara Bray, better than anyone else, knows that theatre is ultimately about live performance and so in 1991 she founded, along with Patricia Kessler and Les Clack, one of Paris' few professional Anglophone theatre companies, Dear Conjunction, who continue to régal Paris audiences with their haunting performances of, amongst others, Harold Pinter and Samuel Beckett. As she her-self says: "Nowadays the theatre is one of the only places where real live human contact can take place…where the spark of one person goes across to the spark of another". Thanks to people like Barbara Bray, that spark continues to be ignited and to be transmitted.
Entrevue avec Michel Didym : Le Dépeupleur
by Gael Staunton
The Irish Eyes, à l'occasion du Festival Beckett à l'Athéné, a demandé à Michel Didym de nous raconter sa vision du théâtre de Samuel Beckett: Vous reprenez au Théâtre de l'Athénée (jusqu'au 9 décembre) Le Dépeupleur, la pièce que vous aviez créer en 1996. Comment et pourquoi aviez-vous choisi ce texte de Beckett ?
Michel Didym : Dans l'infini richesse des propositions de Beckett Le Dépeupleur joue un rôle particulier. L'énigme qu'il pose dans sa première phrase, ce texte est loin de l'épuiser à la fin du premier paragraphe. "Séjour où des corps vont cherchant chacun son dépeupleur".
Nous sommes dans un cylindre dont la description est d'abord posée par ses paramètres techniques, volume, température, lumière, objets, particularité architecturale et plus tard ses codes qui régissent les corps en mouvement ou immobiles. Les paradoxes qu'il soulève sont à chaque lecture réactivés et réanimés vers des couleurs, des vibrations, des sensations différentes. Le Dépeupleur est d'une extrecirc;me rigueur dans son style et son développement et en même temps un grand amusement pour l'esprit car jamais il n'épuise son sujet et jamais nouvelle écoute ne donne nouvel entendement.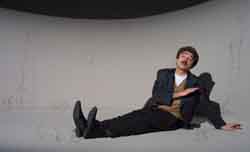 Dans Le Dépeupleur la formulation est surprenante, inaccoutumée, précise et vague à la fois. Les notions se percutent, les classifications s'empilent et se déplient soudainement. Ce texte est une merveille d'architecture.
The Irish Eyes : Sans presque aucune constestation, on reconnait volontier l'apport de Beckett au théâtre contemporain, pourtant peu de metteur en scène s'aventure à la création de pièce de Beckett ? Pensez-vous que ses textes intimident ou que l'on aurait déjà tout découvert de Beckett ?
Michel Didym : Ergoter sur l'apport de Beckett est hors de saison tant il est évident que de Valletti à Minyana pour ne citer que ces deux là, et seulement pour le pays de France, sa trace et son esprit sont présent dans les écritures contemporaines. Son empreinte est certaine et indéniable.
Quant à la mise en scène, Beckett est l'un des auteurs les plus "casse-gueule" du fait de la notoriété des créations différentes qui ont été réalisées. Aussi ce n'est pas sans un certaine appréhension que l'on aborde ses textes, sachant aussi la chape de prévention et de conditions, notamment sur la scénographie et la couleur mecirc;me des murs, qu'il faut parfois respecter pour rester dans les indications mecirc;mes de l'auteur. Tout est serti dans un certain univers et c'est comme cela que ça fictionne. Il en va ainsi pour certains textes. D'autre au contraire n'offre rien, aucune note, aucune indication. Le texte est nu, et c'est très fort aussi.
Avoir peur de Beckett est faire preuve d'un grand manque de goût. Ne serait-ce que pour son apport pour la poésie dramatique de langue française dans laquelle nombres de ses textes ont été écrits (dont Le Dépeupleur entre 1967 et 1968). Ce Dépeupleur est d'abord pour moi une chance comme interprète. Je peux retrouver Alain Françon, qui est l'un des plus grands directeurs d'acteur, dix ans après la création et partir avec lui dans une lecture très différente et toutefois fidèle à l'esprit qui animait notre première aventure.
J'utilise ce mot d'aventure car l'interprétation et chaque départ devant une audience, pour quarante-neuf pages d'une densité rare et d'un vertigineuse rigueur absurde, demande outre un travail forcené de mémoire et de temps, une bonne dose d'inconscience et le sentiment de partir dans une nuit sans fond où règne une vague lueur jaune rouge vacillante et incertaine pour tout fil d'Ariane.
Mais la langue est là. Elle impose son temps et sa pose. Elle dicte sa loi. Tout le monde sait que Beckett est là. Et si ça rigole personne n'est dupe et tout le monde sait de quoi ! La rigueur antique et les déflagrations post-modernes sont dialectisés par une langue d'une âpre suavité sans concessions ni facilités.
The Irish Eyes : Valletti, Angot, Koltes, Llamas, Hall, Cormann, Desproges, Liscano, Durringer, vos choix s'attachent à l'écriture contemporaine.... En quoi, Beckett, avec le Dépeupleur et son cylindre surbaissé ayant 50 mètres de pourtour et 16 de haut pour l'harmonie... se rapproche de ces auteurs que l'on pourrait qualifier de pourfendeur de chaos humain ?
Michel Didym : Quand on assiste à la représentation d'une pièce de Beckett et qu'on a la chance que des générations différentes et des gens de conditions sociales et intellectuelles différentes soient présents on voit bien qu'il y a des lectures différentes. Des jeunes gens hurlent de rire quand la mère prend son gâteau, l'homme âgé se retourne pour demander le silence et le respect des acteurs. Plus tard ce même monsieur sera le seul à rire aux éclats provocant l'étonnement des teenagers. Il en va de même pour la mise en scène et la densité philosophique que l'on veut bien mettre derrière chaque mot, chaque proposition, chaque silence. Beckett pour les jeunes auteurs c'est intimident. C'est la star absolue dans tous les domaines. Je veux dire quand on démarre. Après il est de bon ton de trouver Beckett chiant et nul. Ça ne touche plus, ça glisse ou c'est trop dur, trop aride. C'est trop chaud ou trop froid et si peu de perspective que "le noir froid de la chair immobile".
Gael Staunton remercie Michel Didym
At the recent death of one of Ireland's best known architects served to highlight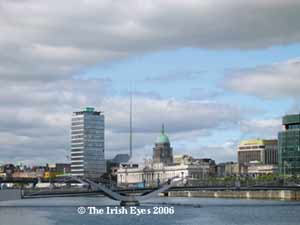 just how much the nation has changed in recent decades. Sam Stephenson, who died in November at the age of 72, was the successful, highly praised and multi- award-winning de-
signer of many buildings in and outside Dublin, a popular figure in many different circles and known as a genial host and raconteur. The tributes and obituaries, however, have invariably focused on just two things: his two most infamous designs and his close friendship with the late Charles Haughey.
Both of these matters take one back to a different country, a grim, pre-Celtic Tiger Ireland of poverty, ugliness and government corruption. Stephenson's Central Bank, now a Dame Street landmark, earned a huge fine when it was constructed as its height and roofline were in contravention of planning permission. It was, however, admired as well as criticised, and does have a certain dramatic presence hanging over the narrow streets of Temple Bar.
Less so the Civic Offices at Wood Quay, the two slit-windowed hulks known as "the bunkers" which have always been widely reviled and are now mercifully hidden behind a more attractive extension. Wood Quay will always remain synonymous with conflict, with the battle between Dublin Corporation and campaigners, among them future president Mary Robinson, who hoped to have the site with its Viking remains conserved as an important part of Dublin's archaeological heritage. The High Court declared Wood Quay a national monument but the Supreme Court later overturned the decision, allowing Dublin Corporation to go ahead with its new headquarters. Looking at documentary footage from the time, the images seem to have come from another era, a poor, shabby black-and-white world where the politicians looked out for their friends and the little folk stood out in the rain.
So how have we come on? The Central Bank's most recent appearance in the news was over its threatened interest-rate hike, a measure aimed at slowing down the huge spending spree this country is on. We've now got so rich that we no longer feel the need to save for a rainy day, even though much of that wealth is imaginary and in the hands of the credit card companies. For the first time there is a generation of Irish adults who did not grow up in the shadow of unemployment and emigration. Young People Today, if you'll pardon the expression, know they'll always be able to find a job and that, even if they don't, mummy and daddy can easily afford to bail them out for a while.
This new breed of Irish has started to make its mark in the media. Journalist David McWilliams's book The Pope's Children (with its telling subtitle "Meet Your New Bosses"), chronicles the generation who were born after the last papal visit in 1979. The Celtic Tiger produced in its young a sense of entitlement way beyond that of previous generations, whether for better or for worse, and it's a noted sociological phenomenon. The McWilliams book has just become an RTE documentary series as the author, like some sort of urban naturalist, sets off to explore the strange world of this wealthy new breed.
More entertaining (and infinitely less demanding of brain cells) is Ross O'Carroll-Kelly, who has just spawned his sixth volume. Star of a weekly column in the Sunday Tribune, in the same way that Bridget Jones came to be, Ross is actually the creation of sports journalist Paul Howard. Truly a child of the Pope, he is young, rich and thick, spoilt rotten by his wealthy pushover parents. In spite of a good expensive education Ross may be barely able to read but he's very good at rugby, beer and sleeping with blonde bulimics from Killiney and Foxrock. The novels that have sprung from the column are regulars in the Irish bestseller lists. They are written in a south county Dublin accent that can take a little getting used to but is also strangely addictive; the unwary reader is in danger of unexpectedly finding themselves referring to the "cor pork" or (my personal favourite) taking a class in morkeshing. The sixth volume, Should Have Got Off at Sydney Parade, is published by Penguin.
The Ireland of today is richer and stronger and, so they keep telling us, happier (our happiness index is apparently through the roof). If you want to view it from another angle, though, perhaps you might consider the transition over the last thirty years from the protestors of Wood Quay, to Ross O'Carrol Kelly and his chums, in Kiely's of Donnybrook and on the batter once again.

Globalisation and economic progress are splendid things in so many ways, but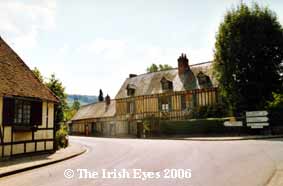 how much more splendid they would be if they did not appear to steamroll everything in their path. A touch of "localisation" would make a huge difference.
Take the slow and seemingly unstoppable asphyxiation of local community life, starting with the corner shop, the café, the butcher, the bistro, the village, and then, one day, the vibrant town centre. The businesses that are the heartbeat of a place are being culled and France's social infrastructure is being transfigured. No wonder people seem worried.
Consider this village I know. Thirty years ago there were three cafés on our street. Today, there is none. The post office, the butcher: all have closed down. Forget depopulation: this village has 1,500 folk and growing. Forget isolation: the village is just 15 km from a large town. All that is left is a fairly dreary baker and a pharmacy. These are to French villages what a pub and a church are to Irish ones.
What do the people do? Where do they eat, or shop? The first myth to dispel is that they spend endless jovial hours in each other's warm dining rooms. In fact, many of them do not eat at home at all; they drive several miles to a Big Drive Thru near town for their fix of fat and carbohydrate. For many, it will be the second or third journey that day, adding to their car trips to the faceless, congested out-of-town shopping precincts where whole lives are inconvenienced in queues just to purchase basic items.
People blame the closure of local shops on these beastly hypermarkets. Many argue they would much prefer to shop closer to home, meet neighbours for a drink or a soup, and discuss yet another French defeat to the All Blacks. Perhaps people would walk more, which wouldn't be bad from the point of view of health, saving on petrol and tackling global warming. And then there's the jobs local business creates. Surely our leaders would find such arguments all very compelling.
Not a bit of it. Recently the village mayor decided to plan a superette for locals by now bored with repetitive, time-wasting car journeys to buy toilet rolls and milk. The mayor had to go cap in hand to seek approval from a diminutive bureaucr
Vous pouvez nous contacter en envoyant un mail à l'adresse suivante : contact
© Copyright Irish Eyes - Photos: © The Irish Club