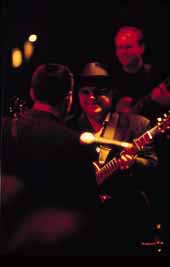 A living rock legend; a revelatory performer; an intensely private creative genius; Van Morrison has communicated more deeply and universally through his music - and has been less responsive to the pop trends -than almost any musician. The musical achievements and inspirat-ions of the Belfast-born maestro's life have been the subject of shelf-fulls of biographies. His discography stretches across over 50 albums and five decades. Ever an enigmatic figure, 'the Big Man' has delighted in "chipping away at his own myth."
The life and music of this Celtic Mystic has taken many twists and turns and the landmarks in his mus-ical exploration have been myriad; from R&B, gospel, soul and spirituality - starting with his musical debut at the age of 12 in his own skiffle group, The Sputniks, and continuing through the showband era with The Monarchs. In 1965 he scored his first UK hit single with Them with Baby Please Don't Go, -incredibly, a feat which he was not to repeat until 24 years later with the single Whenever God Shines his Light.
Van's music has always been intensely personal, and a feature of his life has been his obvious contempt for the trappings of the pop world, preferring instead to maintain his peerless musical expedition. In later years the improvis-atory, sometimes gruff nature of Van's music was to polarise listeners and crit-ics alike, being proclaimed alternately as mesmerising and self-indulgent.
One of the first highlights of the performer's prodigious career occurred in 1967 in New York at the prompting of producer Bert Berns, with his first US top ten hit with Brown Eyed Girl; an ebullient celebration of love in a style redolent of classic black harmony groups. The following year in his debut solo album Astral Weeks, Morrison creat-ed one of the most important and complete recordings of the past 50 years; a seminal ever-shifting music tapestry inspired by blues, soul and gospel; taking on black styles without ever imitating the sound or losing the overriding pass-ion. At the first time of asking, Morrison had succeeded in creating a unique sound, and started his ascent to a music plateau where press acclaim was a mere side-show.
After the innovative and free-ranging style of Astral Weeks, he recorded Moondance (1970), with tighter, punch-ier, jazzier arrangements, a perfect platform for the soaring inflections resplendent on classics like Caravan, Crazy Love and the title track. In 1972, there followed one of Van's more enigmatic releases Saint Dominic's Preview, weav-ing a path through rock and late-night jazz, laced with chiming acoustic 12-string guitar and most notably, resuming the singer's vocal improvisation; altern-ately whispering, pleading, shouting and extolling. A style of repeating and practically incantatory phrases which Van was to describe as "the rhythm of speech-just the way that people talk"; a style which was to surface in many of his later musical ramblings. Another burgeoning feature of Van's work at this time was his intoxicating and hypnotic stage performances.
With the 1974 release It's Too Late to Stop Now, Morrison presented a seamless tribute to R&B and one of rock's definitive live albums, backed by the superb 11-piece Caledonia Soul Orchestra. By way of contrast, with Veedon Fleece released the same year and inspir-ed by a sabbatical in Ireland, Van for the first time introduced a sense of Celtic spirituality into his music-a keynote of his later work. The judic-ious use of Irish tradition-al instruments and influences was seen in the inclusion of uilleann pipes and whistles which enhanced the rural, uniquely Irish atmosphere of the collection and was a linchpin in the artists subsequent development.
Wavelength was released in 1978 and there followed Into the Music (1979) containing the bouncy, buoyant Bright Side of the Road, Van's first solo UK chart entry which reinforced the singers general penchant for a punchy soul style. It also featured the magnificent And Healing has Begun. In 1982, the album Beautiful Vision contained several of Van's most-lauded classics. Cleaning windows was a joyous celebration of the singer's formative Belfast years, while the album also contained several rich meditative compositions, notably Dweller on the Threshold and Across the Bridge where Angels Dwell. The excellent album Inarticulate Speech of the Heart (1983) followed with the compulsive Rave On, John Donne with Morrison placing his work in a literary pantheon. The album contained many beautifully wandering and spiritually uplifting songs and marked a particularly fertile period in the singer's cre-ative life. The album Poetic Champions Compose (1987) confirmed Van's long-running affair with Celtic themes, bringing together the twin influences of love and religion, and revealing the sumptuous Sometimes I Feel like a Motherless Child on which the singer's contemplative del-ivery was truly inspirational. Morrison was now producing the highest standard of music, prompting one music critic to observe that "his albums were events, not mere releases".
In 1988, a festive collaboration with the Chieftains resulted in the definitive album Irish Heartbeat, showcasing a joyous but less introspective aspect of Vans music. The album highlights incl-uded moving versions of She Moved through the Fair and Carrickfergus. It was about this time that Van resettled in London and enhanced his commercial ascendancy with Avalon Sunset (1989) featuring a duet with Cliff Richard on 'the track Whenever God Shines his Light which that July became his first UK Top 20 hit since the halcyon days of Them. This album underlined a continuing strong spiritual sense which combined with the singer's childhood memories into a potent musical collection, featuring the immaculately composed and delivered love song, Have I told You Lately.
Later collaborations in the 1990s included an unlikely link-up with Tom Jones for whom he composed several songs. Later with Too Long In Exile (1993) he revisited his R&B roots and included a memorable duet with John Lee Hooker on a wonderful re-work of his classic Gloria. Back On Top was released in 1999 and became one of his most commercially successful releas-es, including Precious Time which scored a hit in the UK Top 40. But in typically enigmatic character, he followed this commercial success with the idiosyncratic, quirky offering, The Skiffle Sessions: Live in Belfast a collection of skiffle classics recorded with Lonnie Donegan. In 2000, his most recent album, You Win Again, was released, a typically earthy, barrelling Rhythm and Blues collection tinged with country roots rock and "with enough gusto to strip the enamel off your teeth."
Throughout his extraordinary career, Van Morrison has exhibited a legendary disdain for the press and in rare interviews has confessed to being unmoved by critics - an intriguing paradox of a man capable of sumptuous love songs but with a legendary barking temper. Above all he is an artist who has defined his own musical limits, never courting the world of commercial pop; "I never paid attention to what was contemporary or commercial, it didn't mean anything to me." Taken as a whole, Van's body of work is one of the most defining and important collections in rock Music - one which is still growing. His music continues to delight in proudly exposing all of the rough edges and his trademark ragged voice, "cracked, insis-tent and soul-searching" remains a splendid wonder of the musical firmament.
"Sublime Celtic poet", "transcendental visionary" ; in the words of the Rolling Stone " the great old stubborn Irish git he is, Van Morrison, keeps getting weirder with age". The Big Man plays in Paris at l'Olympia on 12th July-"a rare treat to see a true living rock legend who still has this much madness in him."
Official Site : www.vanmorrison.com/