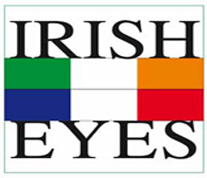 - MICHEL ABECASSIS - ADRESSES IRLANDAISES - ARTS ON SEINE - ANNONCES - ARCHITECTURAL HERITAGE - ARDECHE - ARNICA - ARTHUR - BARBARA BRAY - BECKETT - BATTLE OF THE BOYNE - BESTIE - PAULINE BEWICK - BOIRE SANS DEBOIRE - FRANCOIS BOUCHER - CELTIC TIGER TAIL - CENTRE CULTUREL IRLANDAIS - LE CHEVAL - CONNEMARA - CONTACTEZ-NOUS - CORK - COUP DE CŒUR - CRAN - CHILDREN CORNER - CUISINE - DELICES DE PALAIS - LE DEPEUPLEUR - DERRY- DEUX JOURS à TUER - DONEGAL - RODDY DOYLE - DRACULA -THE DUBLINERS - DUBLIN GEORGIEN - MICHEL DIDYM - DONEGAL - ENFANTS - ECOLOGIE -ENVIRONNEMENT - EUROPE - OLWEEN FOUERE - GERARD BESSON - GOLF - GLOBAL VILLAGE - GREAT WAR 1914-18 - GREEN BOX - HALLOWEEN - HOTEL DD - HUITRES D'IRLANDE - ILES D'IRLANDE - ÎLES - IRISH CLUB - IRISH DIASPORA - IRISH DIRECTORY - IRISH JACOBITE - IRISH THEATRE ON FILM - JAMES JOYCE - KEN LOACH - FERGUS MARTIN - FRANK MC GUINNESS - MADERE - THE MIDNIGHT COURT - MICHAEL COLLINS- MUSEE DES VAMPIRES - NAPOLEON - NUALA O'FAOLAIN (1) - HOMMAGE à NUALA - PARIS GAELS FOOTBALL CLUB PARIS - RECETTES IRLANDAISES - THE IRISH CLUB - THE CLUB - THE IRISH EYES MAGAZINE - THE O'NEILL WILD GEESE - PORTO - RED HAIR - WILLIAM ROBINSON - SAMUEL BECKETT - SHAMROCK - PARIS WITH IRISH EYES - PAULA SPENCER - POULARDE - SPORT - GEORGE BERNARD SHAW - SOPHIE LOROTTE - SOLDIERS & CHIEFS - SOPHIE TOSCAN DU PLANTIER - BRAM STOKER - TOURAINE DU SUD (In english) (En Français) - VAN MORRISON- VAMPIRE - VERT - VIENNE - VOSGES - WELEDA - WEXFORD - WILDE -
THE IRISH EYES - Numero 97
by Jean O'Sullivan
"Heavy casualties. Wounded, wounded, wounded!" reads one of the last entries in a diary discovered after her grand-uncle's death at the Somme. Jean O'Sullivan retraces his brief war career.
With only 589 war graves, the village cemetery in Bouzincourt is modest by the terrible standards of Normandy battlefields. Even so, it takes time to find a grave when they all look the same.
We found what were looking for under a tall yew tree -- a simple white headstone inscribed with a regimental symbol, a cross, and the words: Rev. D.V. O'Sullivan
Chaplain to the forces
4th class
5th July 1916, age 26
Killarney, Ireland
After two decades living in France, and 90 years after his death, I had finally made the pilgrimage to my grand-uncle Donal's grave.
Donal O'Sullivan was killed by a shell at the front as he gave a soldier the last rites. The soldier survived and after the war v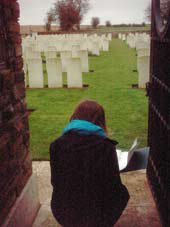 isited the family in Killarney to give a firsthand account of his death. He described him hearing confessions on horseback at the front while the shells flew and the penitent held the reins.
Among Donal's effects was a diary - a brief but moving record of four months in 1916 between his departure from Killarney on 28 Feb-ruary and his death on 5 July.
The first part lists the stages of his voyage to France (Dublin, London, Folkestone, Boulogne…). It refers to snow falling, visits to "Lady Gifford's convalescent home", letters from home and long journeys on horseback and bicycle. Donal sets up a field altar, visits the wounded and distributes general absolu-tion to the troops along with "sweets from home". He uses his leave to cycle to Le Touquet and visit Amiens Cathedral. The high points are "St Patrick's Day, shamrock for all" and "Howe departs and leaves me his bicycle!" The entry for Friday 28 April refers to the Easter 1916 rebellion in Dublin ("last Monday") and the arrest of Irish revolutionary Roger Casement.
The second part reflects the grim reality of life at the front. There are gas attacks, and he visits the trenches, spends a night in a dugout on B&eacutethune Road, gets injured when hit by shrapnel. The entry covering 19-23 May reads: "Anointed the badly wounded. Jones killed, Taylor hit. Cheshires suffering. CO wounded. Adjutant killed. Anointing more soldiers…" He loses friends ("Poor Howard dead." "Poor Taylor died"). Two days before his death, he writes: "Ulster Division Rifles under heavy fire. Heavy casualties. Wounded, wounded, wounded! Busy day for chaplains." The last entry begins: "32nd Division badly done in, also 75th brigade…"
Between oral history, his own diary and other written records, Donal's brief life is unusually well documented. Following his death, the regional press eulogised his patriotism ("an ardent lover of the old land, its language and customs") and heroism ("from the first moment of his military career he was in the danger zone… at his own choice"). Some 68 priests attended the Requiem High Mass that the Bishop of Kerry celebrated for him in Killarney Cathedral. He is memorialized in the Irish war register and by a brass plaque (in Irish) in the Killarney Seminary.
Many years later, in 1940, a war memoir published in Africa spoke of a Father O'Sullivan who organised a mass for an anxious group of soldiers about to go to the front. The author compared it to the Last Supper. He was later distressed to learn that the young priest had been killed the same day. "All I ever knew about him was that he came from somewhere near Killarney, but I remember his face yet, and I feel deeply in his debt".
Restoring French Class
by R J O'Doyle
It's a clammy Indian summer again, but the signs of autumn are here. The
leaves are turning, the garden yells at me and darkness sets in earlier in the evening and clings on later in the morning as I write. In an hour the kids have to be brought to school.
What a great moment in a busy day that is. Shoes on, bags slung, breakfast belched, hair combed, teeth brushed, eyes owl-like, then down the stairs in a clatter, through the courtyard, across the road into a flow of parents, round to the old school house nestling unnoticed in central Paris, and kisses before the boys and girls disappear through the old "Ecole des Filles" entrance.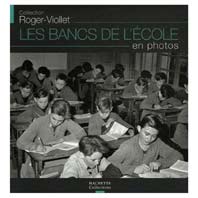 That is an old wooden sign, of course, harking back to a day when girls were girls, and the French teachers were masters like no other at turning cohorts of mômes into talent. They are not so sure of themselves now though. Could this be the autumn of l'Education nationale?
Primary school children seem to be under far more pressure to perform here than I remember, and more than in Ireland, I am told. Competi-tion rather than learning seems to be the culture. Parents stress out, kept at bay by an iron curtain of teachers who know best. One of my kids when he was just four lay awake at night because his teacher had screamed at him for being unable to draw a cat! Another, having done a bit of homework this summer (at last!), was accused of cheating by the maître be-cause she knew the answer to a question. Development must follow the rhythm of the class, not of the child, we are told. Such dirigisme may suit building bridges, but education?
If teachers were leading France to the top of the pile, I'd understand. In fact, the French do lead international tables on education, but for the wrong reasons. They lead the field when it comes to repeating a year at school, for instance: a whopping 38% of kids aged 15 have already repeated, says an OECD report, compared with 14% in Ireland, which is about average. The report says that though teachers see repeating as a good way of getting children to improve, repeat students are no more likely to do well than non-repeating classmates.
The revelation made a splash here. The trouble is, this is just primary school. Secondary schools are the real pressure cookers, but yield very average graduation rates (far behind Ireland, which is sixth among OECD countries!). And once-great universities are overcrowded and antiquated, with unimpressive academia and high drop-out rates. Even the renowned "superior" engineering schools flop on international league tables.
Education is bound to be a presidential election issue in 2007. Why so many drop-outs? Why is youth unemployment and delinquency so high and why do our young graduates leave France to snatch good jobs abroad, as 20,000 have done in Dublin, for example?
The story is not all bad. I have great memories of graduate studies at the Sorbonne; I found the intellectual freedom inspiring, and as a foreigner was embraced by the French. As an expat, I am also happy that our kids go to a French school, rather than to some weird bilingual hybrid.
Also, there are hopeful signs. Seven of the top ten management schools in Europe are French, says the Financial Times (11 Septem-ber). And a recent report showed that a third of all mathematicians on Wall Street - so-called Quants - are French. Surely, a country that produces the Airbus 380 and launches satellites must be doing something right. Nor is education just about jobs: my kids learned more about art and opera in elementary school than I have in 40 years.
But in general, French education is in the doldrums, as is public confidence. I am not sure whether any of the presidential candidates offer hope, with arguments about choice of school being a red herring. What France really needs is to relaunch its identity and let its great mix of people rule. French schools no doubt brim with talent, with Zidanes in every classroom, as well as Doyles and Dubois. The teachers of the 60s must lift their dirigiste dead-hand and follow the kids for a change. And they should update that sign on the school door too.


Uncle Sam Goes Marching On
by Declan McCavana
AAs regular readers of this column will now know and as anybody who even briefly skims the billboards of Paris or flicks through the pages of Pariscope will soon find out, 2006 is the centenary of the birth of one of Ireland's greatest literary figures and possibly the most famous of all Irish Parisians. Samuel Beckett was born in Foxrock, Dublin. He himself claimed that his birth date was Good Friday, 13 April 1906, a coincidence which rather tickled him, given the subject matter of much of his writing, although his birth certificate puts the date one month later. Either way one hundred years on, that event is being celebrated throughout the world and no more so than in the two cities most closely associated with the Nobel prize-winning author, Dublin and Paris.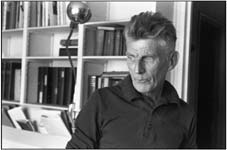 Dublin has already been the scene of much commemoration with the Samuel Beckett Centenary Festival taking place in April and several new productions opening, notably at The Gate and The Project Arts Theatre, but Paris has kept its own cornucopia of Beckett goodies until now and is ready to release them on the Parisian public as of this month.
The huge project which, aside from productions of the entire dramatic repertoire of Beckett, will embrace such disciplines as music, dance and opera and will also include exhibitions, readings, projections, meetings and colloquia, runs from the end of September 2006 into May 2007. It is indeed a massive under-taking and overall will cover nearly 350 events both in Paris and throughout the Ile-de-France region.
The programme is, of course, vast and rich and it would be very difficult to single out particular events, but given the nature of this column it seems only natural to point out some of the theatrical highlights of the festival. Peter Brook's Fragments in October at the Bouffes du Nord sees one of the finest modern directors dealing with one of the greatest modern authors in one of the most haunting Paris theatres. The Com&eacutedie Française's Oh les beaux jours (October-November) promises to be special, whilst Ren&eacute Ch&eacuteneaux's En Attendant Godot will be touring the Ile-de-France from October 2006 to May 2007.
The project is organized by the Association Paris Beckett 2006, which is headed by Robert Abirached, drama critic and Emeritus Professor at Paris X University, Nanterre. Its committee includes many artists and directors who work-ed with Beckett, such as the actor Pierre Chabert, the theatre director Barbara Hutt and the academic Tom Bishop. But above all, the festival has the blessing of Samuel Beckett's heir and the executor of the Beckett estate, Edward Beckett, the author's nephew. Over the years the estate has been accused of being somewhat stubborn in its insistence in overseeing productions of Beckett's work, and has even at times intervened and had runs cut short or cancelled because of their wavering too radically from the original text. However with Edward Beckett's support no such hiccups should beset the Festival Paris Beckett, which promises to serve up a host of theatrical gems and related events. For those of us who have been waiting to see the Beckett play we've never managed to catch, this festival and its rendering of the en-tire repertoire, promises to be one long season of happy days.
For the entire programme see: www.parisbeckett.com.
Terse Beckettian style
Here are extracts from an interview the Irish Eyes carried out with Beckett's nephew and executor, Edward Beckett, in which he shows that the terse Beckettian style is not the monopoly of the Nobel prize-winner in the family.
The Irish Eyes: Could you briefly describe your contact with your uncle (a) in younger years, (b) in later years?
Edward Beckett: Normal family contact in the early years, then later I spent four years in Paris as a student at the Conservatoire National Sup&eacuterieur - and so on.
T.I.E.: How did Samuel Beckett deal with his fame?
E.B.: He ignored it.
T.I.E.: Did your uncle describe his work, his influences, his muse with you at all and if so could you provide one or two examples?
E.B.: This was not discussed.
T.I.E.: What does this centenary festival in Paris mean to you?
E.B.: I am pleased to see Paris openly manifesting such regard and affection for Samuel Beckett.
T.I.E.: Is there any of the upcoming events that you feel particularly attached to?
E.B.: None more than another.
T.I.E.: How important do you feel Paris was for Samuel Beckett?
E.B.: He felt comfortable living and working in Paris.
T.I.E.: For you, should Samuel Beckett be categorized as an Irish or a French author?
E.B.: He was an Irishman writing in French and English.
T.I.E.: What do you feel is the legacy of your uncle's work?
E.B.: His work is his legacy.
T.I.E.: How relevant is Samuel Beckett's work today?
E.B.: Very, it would seem, given the continuously increasing level of interest in his work.
T.I.E.: Which of your uncle's works inspires you most and why?
E.B.: It is the corpus that inspires me.
T.I.E.: As executor of his estate what do you feel is your most important responsibility?
E.B.: To preserve the integrity of his work.
T.I.E.: Why exactly did the estate stop Deborah Warner's version of Footfalls?
E.B.: For the reason given in the previous answer.
T.I.E.: Has the attitude of the estate to experimental versions of Samuel Beckett's work changed over the years?
E.B.: No. Again refer to previous answer.
T.I.E.: What is your lasting memory of your uncle?
E.B.: He!


Vélo-city
by Alison Benney
Hep! T'es pas à ta place! Motorists who park on bicycle paths and sidewalks may be finding this sticker on their car instead of a fine these days, as Paris city hall hopes to tap civic conscience by reminding drivers, chacun sa place. Good news for city cyclists if it works, and one more example of Paris' creative approach to encourage urban cycling.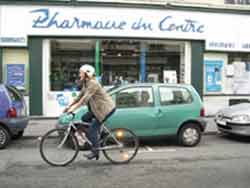 It's been 10 years since mayor Jean Tiberi unveiled Plan V&eacutelo, months after the huge
strikes in 1995 that left most Parisians either walking or biking to and from work or school. His goal was to establish 100 km of bicycle paths in town by the end of 1997, with legisla-tion guaranteeing provision of a bike path any time roadwork was planned. Today, there are over 330 km of bicycle "pistes" around Paris, and more on the way.
So how is life in the fast lane? Was the money invested in constructing bike paths and narrowing city streets worth the traffic jams and motorists' frustration? More importantly, is riding a bike in Paris really worth the exposure to danger and pollution?
What danger? scoff the statistics. According to a recent survey, riding a bike is only 1% risk-ier than driving a car, which is only half a point safer than being a pedestrian. Those whipping through the lanes on motorcycles and scooters are involved in 60% of the accidents in town, and represent 50% of those injured or killed. This, compared to "four-wheelers", who are involved in 78% of accidents but account for only 22% of the victims. Pedestrians account for 23% of the victims and despite qualms, cyclists are involved in only 7% of Paris street collisions.
In any case, for those of us who use our bikes daily, the ease and speed of getting anywhere in town in an average 25 minutes more than compensates for the perceived risk, to say nothing of escaping metro madness. It has its frustrations, of course. Sharing the bus and taxi lanes is a daily exercise in civility and patience, yet again the city has done its part by installing a bicycle and pedestrian-friendly "ding" in buses in place of blaring horns. Motorists are often as leery of cyclists as we are of them, and competing with the motorcycles and scooters, well, let's just say it's an unhappy - and illegal - competition for piste space.
Of course, we v&eacuteloistes need to make an effort. Obligatory accessories include lights, reflectors and some sort of attention-getting noisemaker. Helmets are not mandatory in France, and only 16% of riders bothered to wear one in 2005, although that figure has gone up from only 7% in 1998. It doesn't help that a UK survey found that cars will drive three inches closer to a cyclist who is wearing a helmet than one without. Apparently a helmeted cyclist seems a safer bet - ironic because research has shown that those who wear helmets tend to feel safer to take more chances.
Off the road, many cyclists fighting for lock-up space on one of the 4,500 two-wheel parking rails in town may not be aware that it is actually illegal to attach a bike to a sign pole, pipe or other public utility. However, as there are over 41,000 cyclists rolling the streets per day in good weather, police are not encouraged to enforce that law. On the other hand, they will pull a cyclist over for riding at night without lights (cost: e11-38), and even if 37% of cyclists say they don't worry about going the wrong direction on a road and only 29% obey traffic lights, 3,431 tickets were given out to cyclists last year for "circulation non-conforme", which could cost between e135-170. Further, many bikers are unaware that riding on the sidewalk could cost them a fine of e35-75.
The latest trend in constructing bike paths is to have them going against the traffic, with the provision that speed shouldn't exceed 50km/hour. This may well help reduce Danger Number One for urban cyclists, the dreaded car door opening. Renaud Sherpa, delivery rider for Urban Cycle, attests, "Drivers unexpectedly opening their doors in front of us is our biggest worry." If everyone who shared the road paid attention to the latest city initiative, that risk could be reduced: chacun sa place!


Entre les Pages
by Gael Staunton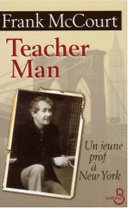 Teacher Man
de Frank McCourt
Editions Belfond

Dans le dernier roman de sa trilogie biographique - après son enfance irlandaise dans Les Cendres d'Angela et sa jeunesse américaine dans C'est comment l'Amérique ? - c'est sa vie de jeune enseignant à New York que nous livre McCourt.
Typiquement irlandais - il manie l'humour grinçant prodigieusement en refusant tout misérabilisme. Doute et passion d'enseignants, le petit plus qui fait que vous devenez le prof inoubliable... Là encore, McCourt, vous fascinez : votre vie, votre coeur, votre âme, vous vous livrez sans retenue... et c'est beau.
Ce roman devrait être offert à chaque personne entrant à l'école : étudiant, professeur, inspecteur et ministre... Merci à votre élève : Eh, m'sieur McCourt, vous devriez écrire un livre. Et si par hasard, vous en doutiez encore: vous avez réussi.


TOP

The Canal Bridge
from Tom Phelan
Edition Lilliput Press



Tom Phelan est aussi l'auteur de Iscariot, de Derrycloney et de In the Season of the Daisies (Á la saison des marguerites) - unique roman de Phelan a avoir été traduit en français.
Tom Phelan est irlandais né en 1940 dans une ferme du Comté de Laois qui, aussitôt ordonné prêtre, s'exile aux états-Unis et renonce à la vocation religieuse.
Dans The Canal Bridge, comme dans ses autres romans, il explore la souffrance... et la duplicité humaine pendant la première guerre mondiale. Guerre &eacutetrange pour les Irlandais; s'engageant contre la tyrannie, vivant l'enfer de la Bataille de la Somme, la sauvagerie de Ypres, ils se retrouvent accusés, par certain, de trahison. 1916 en Irlande, c'est aussi la date d'un autre déchirement, c'est Easter Rising qui conduira l'Irlande à la guerre civile.
Mais Tom Phelan n'est pas seulement un merveilleux conteur, il est aussi un écrivain habile, qui joue avec les mots et le style. Autant que l'histoire, son écriture envoûte et emporte le lecteur dans le labyrinthe de la vie, de la guerre...
Si, il le faut, apprenez l'anglais pour lire Tom Phelan, sous peine de passer à coté d'un grand auteur contemporain
TOP

L'Arbre de Vie
de Ann Jocelyn
Aux Presses du Châtelet

L'Arbre de vie, est le premier livre d'Anne Jocelyn a être traduit en français... Chroniqueuse à la radio, écrivain, Ann Jocelyn - est née en Suède et installée en Irlande dans le Connemara depuis 1980. Dans ce recueil de courts textes, de pensées poétiques, elle nous livre de simples instants de vie qu'elle se plait à disséquer, à analyser à la chaleureuse lumière de son expérience. Biographie poétique ou spéculation philosophique chronologique : naissance, amour, maternité, l'Arbre de vie est un cadeau à faire, à se faire à chaque intant de la vie. Inspiration, respiration et salutation au difficile mais admirable bonheur de vivre.

(Chronique des livres par Gael Staunton)


© Copyright Irish Eyes