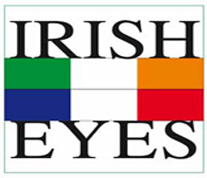 - MICHEL ABECASSIS - ADRESSES IRLANDAISES - ARTS ON SEINE - ANNONCES - ARCHITECTURAL HERITAGE - ARDECHE - ARNICA - ARTHUR - BARBARA BRAY - BECKETT - BATTLE OF THE BOYNE - BESTIE - PAULINE BEWICK - BOIRE SANS DEBOIRE - FRANCOIS BOUCHER - CELTIC TIGER TAIL - CENTRE CULTUREL IRLANDAIS - LE CHEVAL - CONNEMARA - CONTACTEZ-NOUS - CORK - COUP DE CŒUR - CRAN - CHILDREN CORNER - CUISINE - DELICES DE PALAIS - LE DEPEUPLEUR - DERRY- DEUX JOURS à TUER - DONEGAL - RODDY DOYLE - DRACULA -THE DUBLINERS - DUBLIN GEORGIEN - MICHEL DIDYM - DONEGAL - ENFANTS - ECOLOGIE -ENVIRONNEMENT - EUROPE - OLWEEN FOUERE - GERARD BESSON - GOLF - GLOBAL VILLAGE - GREAT WAR 1914-18 - GREEN BOX - HALLOWEEN - HOTEL DD - HUITRES D'IRLANDE - ILES D'IRLANDE - ÎLES - IRISH CLUB - IRISH DIASPORA - IRISH DIRECTORY - IRISH JACOBITE - IRISH THEATRE ON FILM - JAMES JOYCE - KEN LOACH - FERGUS MARTIN - FRANK MC GUINNESS - MADERE - THE MIDNIGHT COURT - MICHAEL COLLINS- MUSEE DES VAMPIRES - NAPOLEON - NUALA O'FAOLAIN (1) - HOMMAGE à NUALA - PARIS GAELS FOOTBALL CLUB PARIS - RECETTES IRLANDAISES - THE IRISH CLUB - THE CLUB - THE IRISH EYES MAGAZINE - THE O'NEILL WILD GEESE - PORTO - RED HAIR - WILLIAM ROBINSON - SAMUEL BECKETT - SHAMROCK - PARIS WITH IRISH EYES - PAULA SPENCER - POULARDE - SPORT - GEORGE BERNARD SHAW - SOPHIE LOROTTE - SOLDIERS & CHIEFS - SOPHIE TOSCAN DU PLANTIER - BRAM STOKER - TOURAINE DU SUD (In english) (En Français) - VAN MORRISON- VAMPIRE - VERT - VIENNE - VOSGES - WELEDA - WEXFORD - WILDE -
PARISIAN RACING by Brendan Mulcahy... © www.irisheyes.fr

I n April, when admissions were free on Sundays at Longchamp, I was lucky enough to see the three-year-old prodigy Divine Proportions win a Group 3 race before annihilating the opposition in the French 1000 Guineas three weeks later. At Chantilly in early June, on a day of cartwheel hats and coquetry (pool Hermès sponsorship and la fête Bresil and you get quite a party), La Divine strolled to victory in the prestigious Prix Diane.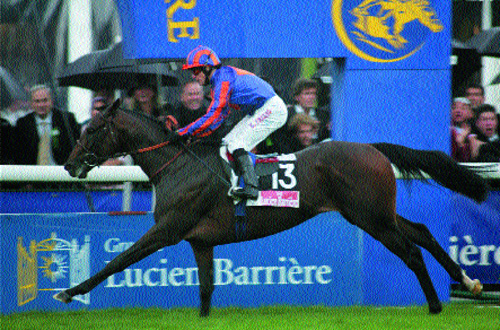 Seven days earlier the extrovert Italian Frankie Dettori had practised equestrian larceny to win his second French classic on Shamardal. At Longchamp in the Poule d'Essai des Poulains he'd stolen a march on Jamie Spencer, and Indesatchel proved a very unlucky misnomer for his Irish supporters! But Frankie had the rail draw that day. At Chantilly, he audaciously grabbed the rail from the 13 draw, then slowed the pace before kicking in the straight to withstand Hurricane Run's express-train finish by inches.
On British and Irish soil, French-trained horses countered, with both Valixir and Chineur triumphant at Royal-Ascot-at-York. Hurricane Run made amends at The Curragh to take the Irish Derby, while the Aga Khan's filly Shawanda slaughtered a good field in the Irish Oaks.
Meanwhile the Divine Proportions bubble had burst. On a chilly mid-August Sunday at Deauville, she faced colts and older horses for the first time and came fourth of six behind Dubawi. She could redeem her reputation in New York in late October.
Kieren Fallon, who had overwhelmed all-comers with a powerful ride on Aidan O'Brien's Scorpion in the Grand Prix de Paris at St Cloud on Bastille Day, was now poised to deliver the performance of the season. In the Longchamp rain on October 2nd he reeled off three consecutive Group 1 victories, culminating in Hurricane Run's scintillating success in the Prix de l'Arc de Triomphe. The winner, a son of the super sire Montjeu, carried the colours of Ireland's Coolmore Stud, which had cannily snapped him up after his near miss at Chantilly.
Being able to go racing so easily and so cheaply is an extremely attractive aspect of sporting life in Paris. In Ireland or the UK you have Ä30 to recoup by the time you have paid entrance and bought a racecard. Moreover, Longchamp, Auteuil, St. Cloud and Maisons Laffittes are all just a short Metro or RER ride away to the west of Paris, while Chantilly is only 45 km to the north.
The French Tote, the Pari Mutuel, invests heavily in the bien-être of racing. Courses are well-maintained, with outstanding floral displays. L'accueil is a notable feature. Smartly-dressed staff greet you and hand out race-cards and brochures to deepen your understanding of l'hippisme.
The Pari Mutuel has a betting monopoly in France, which means that the joust with the bookies is absent. The gain is a more civilised atmosphere. The downside is a loss of excitement and an unconcern for the punter which on occasion verges on contempt, when you consider that it is his ability to lose consistently that funds racing! The monitors showing Pari Mutuel odds are antiquated and sometimes in short supply. Race results are flashed momentarily across the bottom of the screen - blink and you'll miss them. There is something Alice-in-Wonderland in lavishing literature about le pur-sang on everyone but virtually hiding the information on winners and starting prices. Why do they think we go racing?
Hermès day at Chantilly contrasted the champagne life on the lush pelouses with the lot of punters trapped for up to half an hour before a race in smoky betting queues that hardly seemed to move. A touch more égalité would not go amiss!
I'll draw a veil over events when the computers crashed after the Prix du Jockey Club and finish with a couple of snapshots of familiar figures from a fascinating summer's racing: at Longchamp, the gargantuan, teal-suited John McCririck devouring an eight-inch cigar, blowing most of the smoke in the face of the unsmiling Jim McGrath . . . whose Aussie name-sake I overheard at Chantilly assuring an acquaintance that he always had time for a few beers. Good chap!
Vous pouvez nous contacter en envoyant un mail à l'adresse suivante : contact
© Copyright Irish Eyes - Photos: © The Irish Club