THE IRISH EYES - Printemps N° 99
DAMIEN RICE
by Mick Walsh
Listening to his music is verging on open heart surgery… he simply opens up and invites us all in to look around". Damien Rice is an original. While his music is reminiscent of Leonard Cohen with its simple guitars, vocals and swelling strings his lyrics of "soul affirming sadness" are delivered with the intensity of Radiohead; in Damien's World musical categories no longer have meaning. His is a myriad of colliding genres and everything is up for grabs. Rice's debut album O has sold close on two million albums worldwide and his emergence as a distinctive voice has been meteoric. A musical odyssey, it began with the band Juniper in the '90s, continuing with a spell of busking around Europe before arriving back in Dublin, "with a clear head full of ideas". Accolades have stalked his solo career, rave reviews and powerful live shows seeing him scoop the prestigious US Shortlist Music Prize (2003). Rice has an original take on his talent: "The reality is that writing songs is immature. You're expressing often immature emotions, although eloquently. Somebody who is balanced and has himself sorted out doesn't see issues with the rest of the world. Whereas when you're not sorted, when you're turbulent inside and struggling to find balance, then you see all those 'issues' on the outside, and you get bugged by them and you write about them because they're frustrating you, and it pours out.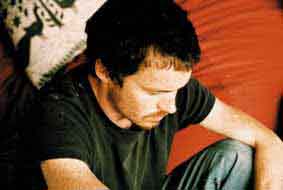 Although a beautiful means of expression, writing songs is innately immature, but it's exciting and who says that being mature is perfect anyway?" The Blower's Daughter is one of Rice's stand-out songs of exquisite delicacy that clings to the ebb and flow of emotion, demonstrating his demand for attention with the refrain, "I can't take my eyes off you", followed by "Until I find someone new". Rice's subjects are more often not love, but frustration when it's thwarted and often written as revenge. In Cheers Darlin' he challenges an ex-girlfriend "What am I, darlin'/ Your biggest mistake?" His emotionally acute lyrics are geniusly clever constructs which Rolling Stone described as "songs that, for all their quietness, leave a dark, lasting impression". But what inspiresDamien Rice? "People are my songwriting influence. What they did to me, with me and what I did to and with them, and situations. There's this lyric in Amie: 'Amie come sit on my wall, read me the story of O'. For me, it's like relationships, they go round in circles and you never learn from mistakes and it's always the same thing over and over. ' Many of my songs are about those same mistakes - that whole thing we do in life - just going around in circles". In 2006, Damien released his second album, 9, an album which finds him "no longer trembling on the brink of romantic meltdown, but wallowing in the deepest pit of despair". "I started with the notion that this album was going to be heavier and darker; but then we recorded Grey Room, and really liked that, and then 9 Crimes. I was drawn to certain songs. When things are too premeditated they don't work. '9' is mostly about accidents." The result is an album of confessional beauty and torrential emotion. From dejected apathy to anger, but all applied with troubadour charm. A collection of heartbreaking odes to other-ness intermingled with stellar compositions The Animals Were Gone and the Dylan-esque Coconut Skins. In 2005 Rice recorded Unplayed Piano in support of the campaign to free Burmese leader Aung San Suu Kyi, first placed under house arrest in 1989 by the Burmese Military Junta. "The people of Burma want her as their leader and the World can also benefit from her liberty. I'm excited, because I feel that Suu Kyi is herself the potential solution. She's the unplayed piano." So compassion matters to Damien? "I was suddenly gripped with the opportunity to perform a selfless act. Unplayed Piano comes from a human, emotional source; it's an expression of loss, but with a huge amount of hope". But Rice is loath to be seen as a political activist. "I'm just a regular musician who has seen something that is wrong and is trying to help." Rice's is an eclectic mixture of sounds, sometimes delicate, often robust but always complex. He performs at Le Grand Rex in Paris on 19th March with a second concert planned at the Olympia (4th July). In Damien's world nothing is easy or certain and everything is questioned. His is a world of privately shared confidences spontaneously imparted, where the only certainty is Rice's own songwriting genius, arresting in its simplicity.

Droles de Pierres : L'alphabet Ogham

by Gael Staunton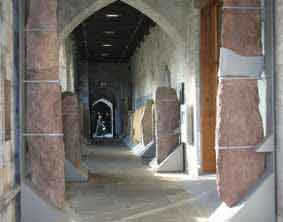 L'Irlande regorge de pierres sacrées. En y regardant d'un peu plus près, découvrons d'étranges messages sur certains de ces vestiges archéologiques. Il s'agit d'inscriptions gravées en gaélique, en écriture Ogham. En usage dés le 5e siècle, l'alphabet Ogham est le premier alphabet pour &eacutecrire le ga&eacutelique cr&eacute&eacute par et pour des poètes et &eacuterudits sur le modèle du latin. Certaines clefs de l'alphabet Ogham se trouvent dans des manuscrits du 14e - notamment dans le Book of Ballymote conservé à la Royal Irish Academy à Dublin. Cet alphabet sera appelé plus tard aussi "alphabet des arbres" car, au moins 8 lettres devraient leur nom à celui des arbres sacrés en Irlande. Ne nous y trompons pas, l'alphabet Ogham n'a rien d'anecdotique et revêt une importance majeure dans l'histoire de l'érudition, du savoir irlandais. Sa conception, particulièrement adaptée au gaélique est le premier exemple de linguistique appliquée à une langue vernaculaire. Preuve de sa spécifit&eacut;e à l'irlandais, l'absence de symbole pour le P, son absent en ancien irlandais. 330 pierres Ogham ont été découvertes et étudiées en Irlande mais il reste aux archéologues, aux linguistes, bien des questions à résoudre autour de l'alphabet Ogham.

PAPAL TIGER

by RJ Doyle

2006 was yet another gravity-defying year of growth in Ireland. Indeed, it has become something of a broken record to remark on how well the country is doing and how much it has transformed. Not long ago, high public debt, joblessness, emigration, conservatism and corrupt politics were Ireland's load. No longer. Fast growth and high incomes have taken over. World leaders in electronics, pharmaceutics and finance are investing there. Young people are build-ing cutting-edge careers, while educated immigrants arrive in from around the world, including France. Property prices have skyrocketed: Dublin's Grafton Street had the fifth most expensive rental values in the world in 2006 (the Champs-Elysées was second)! So how has this transformation taken place? Of the many attempts to answer this question, one of the most entertaining comes from David McWilliams, economist and broadcaster, in his cheekily entitled bestseller, The Pope's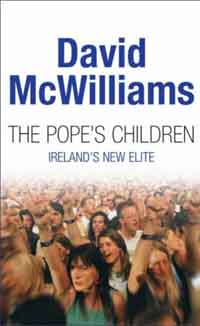 Children. The title defines the new generation of people born a-round the time of Pope John-Paul II's visit to Ireland in 1979. The book sets off at a fast pace, coining clever terms along the way: the "full-on" nation, the "commentariat" of the establishment whose dark "endism" has been overtaken by the optimism of the want-it-now new middle class. This is the "expectocracy", which lives by the "attainometre" and whose internal rivalries and hard work drive the Irish boom from its epicentre in the Babybelt surrounding Dublin. We are introduced to a globetrotting investor called RoboPaddy, a plugged-in wealthy builder known as Breadroll Man, articulate Polish professionals and more. There are some less effective images too, such as Deckland: a suburban hotchpotch of barbecues and satel-lite dishes with unclear frontiers; the Ameropeans: which is a blend of two continental influences; and the HiCo: a confusion of Cosmopolitan and Hibernian, the latter term which McWilliams has dubiously redefined to des-cribe a pass&eacute traditionalist. ("CeltoPolitan" might have been a more accurate fusion of old and new.) McWilliams uses several arguments to explain new Ireland, but one stands out: easier credit. The finance for this credit comes partly from high German savings and partly because Ireland's high home ownership and house prices have enabled vast numbers of people to borrow and spend. Access to credit has liberated ordinary folk from the grip of the present to create exciting new futures. This argument, while persuasive, betrays McWilliams's own past as a banker. The author acknowledges the dangers of private debt, but resists letting economics spoil the story. In the end, The Pope's Children becomes a sociological dissection of a hungry customer base that creditors and marketers will devour. "The author pits one group against the other, praising decklanders and the associated Celtic army of business people as the real motors, while jeering the HiCos' PC taste-driven habits. But surely the real story is how these players of contrasting sizes and pretentions fit together, harmoniously contributing to the forward surge, as in a rugby team." In his "full-on" story, McWilliams roller-coasters from original and insightful propositions to sneering jibes, tall assertions and amusing, if somewhat clich&eacute, caricatures. He paints a fast, merciless picture of Ireland at an important juncture in its long history. Though ably written, some earnest repetition occasionally leads to overkill that a shorter book would have avoided. The book's title bothers me, too. Though eye-catching for dr, even if many of them could be far older. Also, by condemning the backward past, he ignores the role previous genera-tions have played in laying the ground for today's transformation, by investing in education for instance. Nor is Ireland's large middle-class as new to the scene as McWilliams claims. Add in the emergence of global influences, mobile hi-tech industries, fewer opportunities abroad and European funding, and The Pope's Children theory starts to creak. To some extent, the new generation has inherited a land whose time was coming. They are Globalisation's Children. Another problem is that the title may be misleading. A few days ago I was perch-ed over an Alpine slope, contemplating the pack ice ahead, when a lady skied up alongside and said "Dia dhuit": good day. She'd heard my Irish accent as I was screaming at my kids skittering down the mountain. We had both been out of Ireland some 20-25 years, she in Yorkshire, and I in Paris and London. How the old country has changed, we agreed. "Have you read The Pope's Children?" I suddenly asked. She had not heard of it. I suggested that the book captures the new Ireland in a way no number of week-end returns ever could. She looked perplex, said she went home often enough anyway, wished me well and sped away. Perhaps she was put off, thinking I was recruiting for the young evangelists. Still, the book's faults are outgunned by its strengths. Why else would I refer to it suddenly in a brief encounter with a fellow ex-pat in the Alps? For this alone the book deserves credit. Meanwhile, I cannot resist wondering where McWilliams himself would fit within his characterisation. A hybrid HiDeCoInspectocrat CommentRarian perhaps?iving sales, as a writing device it forces the author to constantly fit his characters into a particular generation

Eithne Jordan au Centre Culturel

by Ann Cremin

Enfin l'œuvre de Eithne Jordan est visible à Paris. Après une résidence de plus de trois mois au Centre Culturel Irlandais, en 2005, l'artiste nous livre ici les résultats de ses recherches pendant son séjour. Il faut bien admettre que l'exposition est impressionnante ; tant par sa mise en place que par son contenu. Je m'intéresse à la carrière de cette artiste depuis les années quatre-vingt, quand je l'ai rencontrée pour la première fois à Berlin - elle y a passée deux ans grâce à une bourse de l'état irlandais. À l'époque son travail était fortement expressionniste, des portraits de femmes toutes en chair et hautes en couleur, véritablement de "fortes femmes ". Au fil du temps sa palette s'est adoucie, les paysages - intérieurs et extérieurs - ont remplacés les personnages. Depuis son installation en France, près de Montpellier, la lumière diffuse du sud-ouest se reflète dans ses toiles : maisons enveloppées de brume, les pièces de sa propre maison, le port de Sète… tout un univers à la fois familier et déconcertant par la vision que nous en donne l'artiste. Son séjour à Paris a conduit Eithne, comme toujours, à la recherche de l'univers qui l'entourait, en particulier les stations de métro, des maison entrevues à partir d'un coin de rue. La subtilité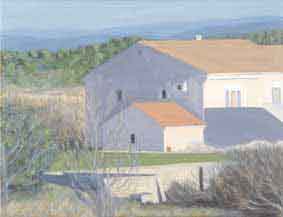 et la finesse de ses coups de pinceaux, ses couleurs à la fois véridiques et cependant oniriques, confèrent un charme désuet à ses toiles. On "connaît " et en même temps on ne "reconnaît " pas les sites pourtant familiers de la capitale. Sa peinture au fil du temps s'est affinée, pour atteindre une sorte d'expressionnisme "froid ", par lequel l'objet en soi ne représente que la réflexion sur l'acte de peindre, la main de l'artiste exprime un état intérieur, et l'objet n'est en vérit&eacute qu'un support pour la peinture elle-même. Car il s'agit bien d'une longue réflexion sur la peinture, et sur l'acte de peindre en particulier - nous accédons à l'intime conviction de Jordan - ce travail n'aboutira jamais, car il s'agit d'une remise en cause permanente de cette question lancinante : qu'est-ce que la peinture ? Pour qui peint-on ? Ses couleurs sont plutôt sourdes, jamais mièvres cependant, il s'en dégage une grande puissance mais qui n'est pas criarde. La technique de l'artiste est faite de force tranquille, de quelqu'un sûre de sa maîtrise technique et assurée de son inspiration. La vie quotidienne n'est certes pas un long fleuve tranquille mais on peut la regarder avec une certaine bienveillance, avec affection même - cela doit être la maturité. Car en effet, Eithne Jordan se montre ici telle qu'en elle-même : calme, apaisée, mais jamais autosuffisante. Nous sommes conviés è venir admirer les dernières œuvres d'une artiste en pleine possession de ses moyens et qui accepte de nous montrer, très simplement sans artifice, la teneur de sa pensée et de ses préoccupations actuelles.
Exposition jusqu'au 24 mars Centre Culturel Irlandais, 5 rue des Irlandais, 75005
La Galerie Rubicon pour Eithne Jordan
It is a frustrating experience writing rugby articles for this magazine. What is fresh in my mind will be old news for you. It is hard to avoid clich&eacutes, such as "at the time of writing." What the hell. At the time of writing, the Six Nations Tournament has reached the third round stage, and I'm sitting here wondering how to do justice to Ireland's performance against England at Croke Park. This is undoubtedly the most important event to comment on - at the time of writing. Sigh. So, let's backtrack. The Heineken Cup resumes on the 30th, 31st of March and the 1st of April. These are the quarter finals, and Irish interests are served on the Friday evening with Munster playing away to Llanelli Scarlets. Then, on Saturday, Leinster travel to meet London Wasps. These will be tough games to win, both teams ruing last round defeats which means they are forced to play away from the comfort of home. The other two quarter finals are on the Sunday with Biarritz versus Northampton, and Leicester against Stade Français. It's a tough call to predict the two teams to make the final on the 20th of May, but I'll stick my neck out and go for Munster/Leicester. In the Magners' league, it's nip and tuck between Leinster and Ulster at the top. They are both well ahead of the field, but there's plenty of good rugby yet to be played, and international match commitments make for weakened squads. Consider Leinster, for example; Top of the Magners' league, playing in the Heineken Cup and a host of players representing Ireland in the Six Nations. Surely something has to give. To the six nations, then. The first weekend produced no surprises, with victories for France, England and Ireland. Only France looked menacing at this stage, though. After the second weekend, England were unbeaten, having put away Italy unconvincingly, 20-7. Scotland beat Wales in a lacklustre game, 21-9. The only interesting rugby was played on the Sunday between Ireland and France. It was Ireland's first time playing at Croke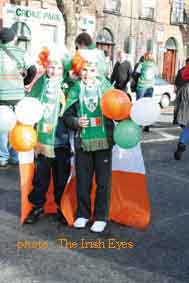 Park. We began poorly and allowed the French to pull away to a 13 point lead - usually a fatal thing to do. However, we then proceeded to dominate the game, and led by four points well into injury time. Then cruel fate! A sloppy tackle, an unkind bounce and the French ruined our dreams of a grand slam in the dying moments. Lucky I didn't have to write an article immediately after that; I couldn't have done it. Now at last, we turn to the weekend of the 24th of February. Scotland were shocked by the Italians, conceding three tries in the opening ten minutes or so. They reverted to their old style rugby of up the middle and nothing fancy, but the Italian forwards were well up for it, and came away deserving winners, 37-17. France stayed ominously calm and professional after Wales scored twice in the first five minutes of a dream start. They produced the French flair and combined it with precision place kicking to win 32-21. What a long way they and their supporters have come. The fans would have booed all those kicks in the past. Ah, and then there was "that game." Croke Park with its bloody history at the hands of the British; the build up involving the playing of God save the Queen; the match itself against the auld enemy. It was a stunning performance by Ireland and the only time I've ever seen them play like that was for 40 minutes against Australia in the Autumn. We were ruthless, and delivered a dignified drubbing, 43-13. This was England's largest ever defeat and Ireland's finest moment. So, now we're off to Scotland to look for a triple crown, and then to Italy where a win could leave us in contention for the championship. It's still wide open, but France have to be odds-on favourites. Before I move on, I'd like to draw your attention to something that all but passed under the news media's radar. The English rugby football union offered to lay a wreath in remembrance of the dead in 1920. The gesture was rejected by the Gaelic Athletics Association on the grounds that it was not the place of a sporting union to apologise for the acts of a government, and quite right the GAA were. A very noble gesture, though. Thank you, English rugby, for that. We finish with a comment on the World Cup 2007. More than ever, it is essential that we come out of our pool in first place to avoid meeting New Zealand in the quarter finals. We need to be on top form to beat those devilish, partypooping Argentines. Then there's the French! We want revenge! Come on, if you're hard enough.

© Irish Eyes