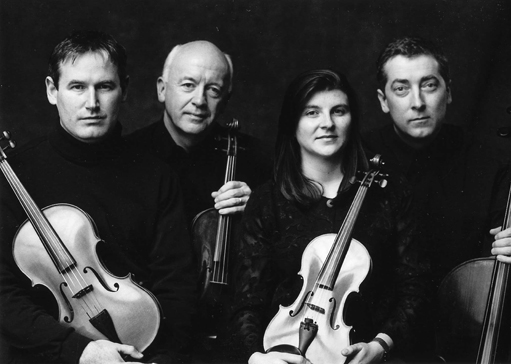 "The music of the West Ocean String Quartet lies somewhere between the worlds of classical and traditional music – wherever the hell that is!"
Since its formation in 1999, the WOSQ made up of Neil Martin (cello), Seamus McGuire and Niamh Crowley (violins) and Ken Rice (viola), has displayed a 'happy disregard' for where those musical boundaries meet. Neil explains, "our intention is to explore and celebrate music; both traditional and newly composed. Our repertoire is eclectic and unique, straddling a path somewhere between the two genres".
In Summer 2004 the WOSQ's debut CD 'Unwrapping Dreams' won Best Newcomers Album in the American Live Ireland Awards and in 2006, the follow-up 'The Guiding Moon' featured Chieftains flautist Matt Molloy. Critics describe their music as 'true fusion' and 'welding classical and traditional music into entirely unexpected shapes' and on Tuesday, 17 March, WOSQ will perform their inaugural Paris concert at the Centre Culturel Irlandais with sean-nós diva Maighréad Ni Dhomhnaill.
The concert will include a performance of the wonderfully evocative song cycle for traditional voice and quartet, Oileán na Marbh: The Island of the Dead. "It's a series of four songs based on a poem by Cathal O'Searcaigh about a wee island off Carrickfinn, West Donegal. It's a small grassy lump of rock a few yards off shore, accessible by foot at low tide, where children who died before baptism were buried in the 18th & 19th centuries. It seems wholly inconceivable to us now to be denied that fundamental comfort of having one's child buried in the graveyard. The story is told from the mother's perspective – the pain and anguish, the anger and longing. It's a very emotive place and I was completely ensnared by the cruelty of it – there's not a cross, stone, mound of earth, no marking whatsoever to remember those children. I went out to see the island and then in 2006 I got a commission from Temple Bar Cultural Trust, to write some music about Oileán na Marbh. I decided that the piece must have a mother's strong, soaring voice at the epicentre, and given where the island is, and its title, that it should be as gaeilge. The only voice that I had in mind as the perfect vehicle for the piece was Maighréad Ni Dhomhnaill".
Neil Martin was born into an eclectically diverse music household, 'a huge musical pot-pourri'. "I'm an uilléann piper and a cellist and while I don't have specific musical preferences, most of what I do has an Irish influence. Four years ago I wrote a concerto for uilléann piper Liam O'Flynn and the Ulster Orchestra, cross-fertilising two different worlds and grafting them together."
In 2007, Neil was commissioned to mark the 400th anniversary of The Flight of the Earls and the result was OSSA, a symphony for orchestra with 120-voice chorus and boy treble soprano. "The symphony tells the story of the extraordinary journey of Hugh O'Neill and his court starting with their departure in 1607 from Rathmullan, Donegal bound for La Coruña and the court of Phillip 11, and ending with Hugh O'Neill's death in Rome in 1616. When O'Neill arrived in Rome in 1608 he found himself in political limbo and died there in 1616 and was given a huge state funeral paid for by the Spanish government; it was crazy politics. For the composition I used nothing but pure symphony orchestra and chorus but I suppose it's inevitable because I'm hard wired to it. The second movement of that symphony ended with a Gaelic air, but played by classical musicians with an authentic Irish interpretation and ornamentation. There were also several reasons for my choice of boy soprano. When O'Neill left Rathmullan, it was in such a hurry that his 14-year old son was left and was captured and incarcerated in the Tower of London; he never saw that boy again. Also out in Rome in 1609, O'Neill lost another son through natural causes. I picked the boy soprano as the analogous spirit of the two dead sons, the innocence of a young boy, representing the great sadness in O'Neill's life. There was also a strong element of absolute exasperation in O'Neill's life having come from a very powerful, feted position when he arrived in Rome with all that expectation, and to have spent the remaining 8 years of his life, politically extremely disappointed but also in relative poverty. Coming from the powerful heights of Ireland to realising he was being used as a political pawn. The symphony contains that lachrymose element and sentiment. OSSA has a single European music currency because effectively it's about a trans-European journey 400 years ago.
Neil finds himself in a unique role as a cellist playing Irish traditional music. "It sounds selfish to talk of finding a unique new voice for the cello in Irish music, but the great and equally wild, terrible thing, is that nobody has used the cello before in Irish music. Which on one level is fantastic because you can do your own thing, but equally you've nobody to take influence from. I just found myself in this position of playing uilléan pipes and cello and they began to cross-fertilise".
Neil considers playing in a string quartet 'a sacred thing'. "It's one of those facts of life that it works as an ensemble. We try to find our own voice and are selfish about it. I'm finding my voice by writing for the quartet and the sound we make and the colours we develop haven't really been done before. It's wonderfully pioneering and exciting when we get together; it remains a precious experience".
Neil Martin and the West Ocean String Quartet will perform with Maighréad Ni Dhomhnaill at the Centre Culturel Irlandais, Paris on Tuesday 17th March at 19h30 - tickets €10.

© Copyright Irish Eyes

TOP