Francis Bacon, le turbulent de l'École de Londres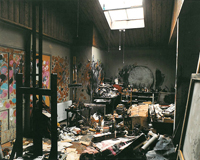 Depuis le 28 octobre 2009 et jusqu'au 7 Mars 2010, la galerie dublinoise Hugh Lane Gallery vous invite à [re]découvrir, l'enfant terrible irlandais Francis Bacon, né il y a, tout juste eu, cent ans le 28 octobre 1909 à Dublin.
Celui qui fut sans doute, le plus turbulent des artistes de l'Ecole de Londres — Lucian Freud, Ronald B. Kitaj, Michael Andrews, Frank Auerbach, Leon Kossoff, Bacon Francis, Sutherland Graham -— ne nous a pas révélé toute la richesse de son œuvre et la complexité de l'humain.
Lorsque qu'en 1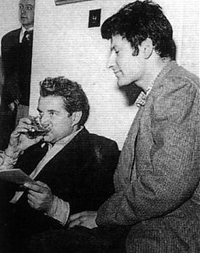 992, Francis Bacon meurt en Espagne, d'une pneumonie. John Edward — le compagnon des dernièrs 16 ans — et Brian Clarke, exécuteur testamentaire feront don de son studio (Reece Mews) à Dublin, où il est possible de retrouver près de 7000 objets repositionnés à l'identique... une prouesse archéologique moderne.
Reece Mews est un parfait exemple de l'ambivalence de Francis Bacon : le studio chaotique et le petit appartement presque monastique. Francis Bacon a besoin du chaos pour créer mais se reconstruirait-il dans cet ordre rigoureux. Malgrè sa gloire — Bacon est un des artistes dont la côte atteint des sommets de son vivant — il ne quittera pas la simplicité de Reece Mews.
Avec cette nouvelle exposition à Dublin, la Hugh Lane Gallery nous propose un nouveau regard sur le peintre et l'homme Francis Bacon... un véritable retour aux sources.
Explorer l'âme de l'homme : son enfance en Irlande, sa jeunesse, sa vie, ses amitiées, ses amours, sa fantaisie. Comprendre le peintre : ses aspirations, ses doutes, sa méthode, sa folie, son génie...
Avec "Francis Bacon, A terrible beauty" c'est entrer au coeur de l'œuvre de Bacon.
Comment, il travaille... la photo, le papier, la déformation...
C'est aussi comprendre
Jusqu'au 7 Mars 2010
« Francis Bacon, A Terrible Beauty »
Dublin City Gallery The Hugh Lane de Dublin - (Irlande)
Pour en découvrir encore plus... `
- The Estate of Francis Bacon Argon House Argon Mews, London SW6 1BJ
le studio et l'appartement de Bacon à Londres.
- La maison où est né Francis Bacon : 63 Lower Baggot Street à Dublin
Et encore....
PICASSO, MATISSE, DUBUFFET, BACON...
Les modernes s'exposent au Musée des Beaux-Arts de Lyon (France)
Exposition du 10 octobre 2009 au 15 février 2010
Autour de Bacon à Dublin
Le Trinity Capital Hôtel : Dans un décor exotique et coloré entièrement refait en 2007, le confort, la convivialité irlandaise et le design à deux pas du centre ville.
Trinity College, The National Gallery, Grafton Street, Merrion Square....